Artificial intelligence is on its way to taking the world by storm; especially in computing-based jobs. Jasper has bamboozled AI enthusiasts with its AI content creation tool and now it's time for the graphic designers to follow the suit!
With all the hype and excitement around the product, I decided to take up the task of reviewing the Jasper Art AI Generator to save you both – time and money.
So, are you ready to find out whether Jasper Art is worth your investment, time, and creativity or not? Let's dig in!
What is Jasper Art AI Generator?
A revolutionary AI software that is here to blow your mind with its artistic capabilities, the Jasper Art AI Generator is surely a treat for content creators!
If you've been wasting your time scrolling hours and hours on the internet trying to find decent social media or blog post images (just like me), then Jasper art is the revolution you've been waiting for!
Through indescribable integration of styles, concepts, and attributes, Jasper creates alluring images within just a matter of a few seconds. It's an AI toolbox that creates images based on the textual feedback that you provide. 
It introduces you to the world of possibilities within the graphic design from the comfort of your desk! As an artist or a content creator, you can create any type of visual that you desire by using Jasper Art. No special skills, no technical knowledge needed!  
What's the technology behind this amazing creation? Think over it, you've definitely heard of this technology before! Yup, you guessed it right. It's the Dall E technology. (More about this later on!)
What is the Underlying Technology of Jasper Art AI Generator?
As mentioned in the above section, the Jasper AI art generator is based on the Dall E2 technology. Now, the DALL E2 is an AI revolution that can generate realistic life-like images and art simply from a description of it in the natural language.
It can create expansive brand-new compositions that are way beyond an original art canvas. This technology understands the connection between text description and images perfectly!
In addition to the Dall E2 technology, Jasper uses diffusion (a proprietary process) to play with a random dot pattern and then alternate it to produce the desired images.
The Dall E2 technology has several advantages over traditional AI technologies in the artistic arena. Them being – understanding of textures, shadows, and reflections when creating the desired image.
Compared to its predecessor, the Dall E2 technology creates more accurate and realistic images. Furthermore, there is an additional option to alter and edit the existing images to your liking. 
Who Should Adopt Jasper Art?
Jasper Art AI generator is a paid AI text-to-image generator tool that is available on the official website of Jasper.
All it takes is a hint of creativity with a touch of imagination to utilize this AI tool to its full potential.
I personally feel that this tool could become a godsend for content creators in any form because of its versatility. There's a lot of room for improvement in the tool which will only open up doors to more creative opportunities in the future.
So, if you're in any one of the following professions, then you can benefit immensely from this AI text-to-art generator!
Graphic designing agencies
Bloggers
Social media marketers
Ecommerce companies and brands
PPC executives
Vloggers
Content writers and publishers
All-inclusive, if you're someone like me who just loves to unleash their creative juices, then you'd love to play around with your creativity using the Jasper Art!
How Can You Get Access to Jasper Art?
Congratulations! The waiting period for acquiring Jasper Art is now over! If you're ready to get promoted to the rank of creative director, then here's what you'll need to do!
Create Your Account
Go to the official website and choose to sign up between Starter or BossMode. Add Jasper Art to your chosen plan and voila! You'll be all signed up!
Activate Jasper Art
For the first-time access period, the company is offering a steal deal of unlimited image creations for a mere $20/user/month. This means that you can use Jasper to generate images all day long with zero hassle! That said, this is an early bird offer by the company. So, go purchase the AI tool before the offer runs out!
Generate Artistic Images
To bring your vision to life, all you need to do is provide a prompt, choose the style you'd like, and then click on generate. You'll have 3-4 relevant images ready with you within just a few seconds!
Is the Pricing for Jasper Art Justified?
Since this AI text-to-image generator has just come out for its customers, I understand that there are going to be a lot of questions about its pricing.
So, first things first, the Jasper AI tool is currently available for unlimited image generation for just $20/user/month! Yup, you read that right. But, hold your horses right there because it is a limited period offer and the pricing will change in the future!
Secondly, since this AI tool is still in its beta mode, you have to buy the Jasper Art subscription in addition to the Jasper content writer. You can buy the subscription for the content creator tool at just $29/month for 20,000 words.
Therefore, the total subscription for the Jasper AI art and content creator tool comes to $49 per month. As the product evolves, you'll be able to buy the AI art generator as a standalone product soon!
If you are a student and looking for AI tools, grab the best student deal by Grammarly.
How to Generate Art with Jasper Art AI Generator?
Following up with a strong successor to their content writing tool, Jasper has just released their AI image generator tool. Honestly, I was so excited to test the hype around the product that I jumped straight to creating images as soon as I received the activation email! So, here's the tea on how you can use this tool to generate some fabulous images!
What I noticed while working with Jasper (and most of the AI image generators) was that you need to be pretty specific with your requirements. Therefore, some textual commands work better than the rest depending on what you intend to create.
All you need to do is type a relevant prompt to create an image that you envision. The underlying technology of the image generator has gone through some rigorous training to create artistic images.
Another point to note here is that all of the images generated by Jasper Art are 512*512 pixels in size. However, with the advancements in the product, I expect this to be modified soon.
Now there are two modes of image creation with Jasper – Basic and Advanced.
Basic
The Basic Mode gives you several cues to create a prompt. Begin by adding the objects that you want in the image description box. Always remember, that the more details you enter, the better results you will get.
There's a Style bar where you can choose from the following different styles:
3D render
Anime
Cartoon
Pixel art
Abstract
Art deco
Line art
Retro
Next up is the Medium bar where you can define what should be the medium of portrayal for the images. This includes:
Acrylics
Classic Oil
Ink
Canvas
Glass
Spray Paint
Then, you get to add a touch of your favorite artist's style into the image:
Andy Warhol
Paolo Picasso
South Park
Angel Adams
Pixar
Van Gogh
Next, it's time for you to choose the mood from:
Aggressive
Calm
Energetic
Lifeless
Boring
Colorful
Joyful
Romantic
And much more
Lastly, pick a generic keyword to best describe your image from:
Ambient light
Close-up
High resolution
Black and white
Full face portrait
Realistic
Here are some examples of the type of images you can create with the Basic Mode: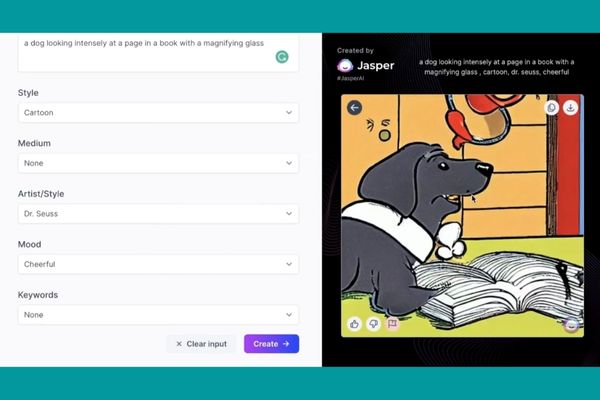 Freeform/Advanced Options
Once you've gotten accustomed to the Basic Mode, you'll be left craving some more artistic freedom. This is provided to you by Freeform Mode.
The quality of images generated by both Basic Mode and Freeform Mode are the same but you don't have to go through the trouble of choosing from multiple dropdown menus with the latter. All you need to do is fill up a text field.
Here's an example of the images that can be created in the FreeForm Mode with a simple prompt!
What are the Pros of Jasper Art?
Being a beta model in the world of text-to-image AI generators, the Jasper Art AI Generator is still far from perfect. That said, the AI model has a lot of positive hits which create an encompassing user experience. Here's what I absolutely loved about the product compared to other AI text to image generators in the market:
Stunning Visuals
Being a staunch believer in the power of artificial intelligence, I've spent months dwindling around with various content creation AI tools on the market. From Craiyon to NightCafe, I've experimented with them all. While most of these AI image creators did their job, I was always left wanting more.
Higher image quality paired with a variety of creative styles is what I craved. With this Jasper Art AI Generator, I've been able to bring my vision to life. That said, were the image outputs flawless 100% of the time? No. And this is something I'll elaborate upon in the sections that follow.
All in all, Jasper is capable of creating superb quality images in a plethora of creative styles. If you're especially looking for alluring historical photographs, sketches, watercolor art, and fun caricatures, then this tool is perfect to enjoy a taste of its brilliant abilities!
Lightning Fast Image Creation Time
Some of the AI image creator tools that I've experimented with in the past had painfully slow image generation times. Some even took up to 3-4 minutes to generate simple text-based images.
However, Jasper pulled me out of this nightmare of a situation with its snappy performance. This is probably my favorite part about this tool. I can feed any text into the search bar and Jasper will create 3-4 of the most relevant images within just 5-10 seconds.
Another advantage of its lightning-fast speed is that you can take up multiple searches within a span of just a few minutes and see which one works the best for your task.
Excellent pricing
Most of the AI image generators that I've stumbled upon in the past, used to work on a credit-based system. So, in this type of system, you're given certain credit points and for every image you create, you have to pay the credit expense. Therefore, while working with such tools I was stretched thin for time, money, and well; images for the most part.
However, Jasper Art AI Generator offers unlimited image creations at an unbeatable price. I had to rub my eyes twice to believe that I could get unlimited high-quality images for such a cheap price!
A Plethora of Use Cases
The Jasper creator team has confirmed that the images generated by the AI tool can be used for a variety of purposes. From blog posts to book illustrations to NFTs, you can create images for all with Jasper!
I have worked in the blogging industry for a significant amount of time. And the most annoying situation I've encountered is – having a beautiful content piece ready but no decent stock images to go with it! I've spent hours and hours at once trying to find blog post images but to no avail.
Now with the Jasper Art AI Generator in my kitty, I can create relevant blog post images at just the click of a button!
Feedback Option
The image outputs generated by Jasper have a feedback option on them. Whenever you zoom in on the image options, you'll see two signs – a thumbs up and a thumbs down. If you love the AI-generated image result, then just click on thumbs up, and if you don't, then click on thumbs down! It's just that simple.
What are the Cons of Jasper?
As I stated above, the Jasper AI text-to-art generator still has a long way to go before it becomes every content creator's top graphic designer pick. Let's take a look at some of the misses of this AI text-to-image generator tool!
Eerie Looking Humans
As I have mentioned in the pros section, Jasper creates flawless and relevant images most of the time, but not all. All thanks to the valley phenomenon in the existing AI tools, you might face some issues with realistic human image generation.
That said, this problem is not limited to Jasper but applies to every AI text-to-image generator on the market. Compared to others, Jasper gets a lot of things right but can produce some creepy-looking human images! When you look at the images as a thumbnail, they look gorgeous. But, as soon as you zoom in on them, things get creepy pretty quickly.
For example, here's a picture of a man working on the computer generated by Jasper.
Limited Features
Being in its beta phase of development, Jasper only uses two image creation modes – basic and advanced. In the Basic mode, users can type up to 400 characters. You use an advanced mode to create an image that you like based on mood, artist, medium, and style. The tool also has a history tab to keep a check on your past image creations.
However, Jasper is a brand new graphic designing tool and the company is working on its feedback. Hopefully, we'll soon see a more advanced version of this AI text-to-art generator tool.
Copyright Issues
As the text-to-image products are new, the ownership of these images is yet to be explored due to issues such as – human authorship.
Uncontrolled Output
Another major issue with the current AI text-to-image generators in the market is that you need to be pretty specific with your textual inputs to get the desired output. Even after several attempts, the tool might not generate your vision.
But the good news is that with a subscription of just $20 per month, you get to create unlimited images. With no cap on image generation, you can play around with the tool as much as you want!
For example, let's say that you write in a prompt about a sumo wrestler eating a taco while looking at his computer. Here are the images that Jasper created!
As you can see, while the images are pretty close to the textual description, most of them lack one or two descriptive elements. Therefore, you truly have to be thorough with your research!
Not a Standalone Product
As of now, you can only buy Jasper Art along with its content writing counterpart. Therefore, you'd have to purchase a subscription for the Jasper AI content writing tool and then add the Jasper Art subscription to it.
This would bring your monthly subscription total to $49/ month. It might sound like a lot in the beginning but it's a steal deal for content creation enterprises. Moreover, following its advancements from the beta mode, the company claims that the product will soon be available as a standalone subscription! 
Recommend related article: AI content detection tools
What are Some Jasper AI Art Alternatives to Try?
Apart from Jasper Art, I've also experimented with a line of other surreal AI text-to-image generators that you must try at least once! Check them out!
Deep Dream Generator: Founded by Google, this one is my second favorite AI graphics creation tool (after Jasper). It offers 3 image generation styles with different technological variants.
NightCafe: This is a free AI text-to-image generator that I feel every creative artist must check out at least once! It'll give you a fair idea about the power of AI when it comes to image generation and delivers one of the best services in the market!
StarryAI: This is also a free AI image generator and comes with a supremely user-friendly interface. The only disappointment for me was that it works on a credit-based system (explained earlier).
Frequently Asked Questions
What is Jasper Art? 
Jasper Art is an AI text-to-image generator tool based on the Dall E2 technology. It creates artistic images based on the textual description provided to it. 
What is the pricing for Jasper Art?
As of now, you can buy the Jasper Art subscription for just $20/month for unlimited image generations. However, since this is a beta model, you have to pair up your subscription with a Jasper AI content writer that runs at about $29/month for 20k words. Overall, the subscription would cost you $49/per month. 
Is there Jasper Art included in the Jasper AI subscription model? 
No. The company does not offer Jasper Art with either Standard or Boss Mode plans. You have to add the image generator separately to your subscription model.
Like to read more? We have Scalenut Review 2023, and Jasper.AI free trial as well for you.
My Final Thoughts: Should You Invest $20 Bucks in Jasper Art?
The answer is 100%!
The Jasper AI text-to-art generator has surpassed the expectations of AI enthusiasts with its capabilities. It's fair for me to say that this image creation AI tool has plenty of potential improvisations in the future based on customer feedback.
Personally speaking, I was whistling with joy when I first tried my hand at this tool. I'm super excited to check how this tech tool shapes up in the future and becomes the top pick for several content creators like me!
Would you like to checkout some books as well? Here they are:
Jasper Art Review: AI Text To Art Generator Experience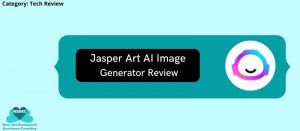 Artificial intelligence is on its way to taking the world by storm; especially in computing-based jobs. Jasper has bamboozled AI enthusiasts with its AI content creation tool and now it's time for the graphic designers to follow the suit!
Price: 20
Price Currency: USD
Operating System: AI
Application Category: Text to Art