The future of artificial intelligence (AI) is so bright that the scope of development in it is too vast. It became a fascinating topic for tech lovers and proved useful in many industries.
Similarly, another application of AI is being in trend for the last few years, which is AI text-to-image generators that are very helpful for people who want to express their words graphically, especially for artists and designers.
So, in this article, we will introduce you to AI art generators, yes 10 best AI image generators online in 2023.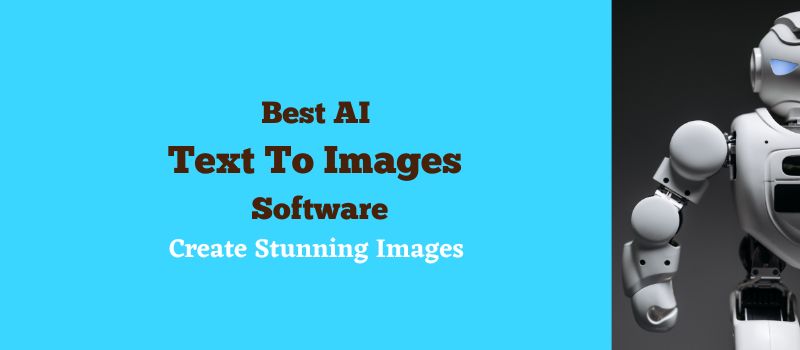 All About AI Text To Image Software:
We have covered both paid and free text-to-image AI generators in this article. So, let us first know what AI text-to-art generators are and how they work.
---
What Is AI Text To Image Generator?
An AI text-to-image generator also known as an AI image or an art generator is an online tool where you can generate images by writing their description. Some AI art generators also create better visuals by giving your existing image as input while in other AI image generators, you can create images from scratch by writing about the scene.
You should not get confused between simple text-to-image creator and AI text-to-image creator. In the case of the simple text-to-image creator, the text that you type gets converted as it is into jpg, png, or any other kind of image format without giving any graphics and visuals.
On the other hand, the AI text-to-image generators automatically create new graphics and stunning visuals for the text that you typed, for example, if I write a mango tree in front of the river it will bring the images of a mango tree near the river not the typed text into jpg format.
Here are some samples of AI generated images.
---
Top 10 AI Text To Image (Art) Generators Online 2023
Now let us see the 10 best text-to-image AI generators from my experience of using them. The ones that offer free AI image generation services are also specifically indicated in brackets next to their name.
Photosonic is a highly advanced product of Writesonic that creates innovative artistic and realistic pictures according to your description. It is a powerful and easy-to-use image generator.
It allows you to create custom images with a wide range of options. You can add text, images, shapes, arrows, and much more. You can also use advanced tools for creating amazing images with ease.
Its basic plan gives you 100 credits for just $10/month but if you want more, you can switch to the Unlimited plan with unlimited credits for just $25/month. However, It gives you a free trial also and get 15 credits for free.
Features Of Photosonic
Creates stunning images that are unique and eye-catching
It gradually transforms a random noisy image into one that more closely resembles the text it represents.
You can apply text annotations or filters to images in Photosonic.
You can earn more credits by inviting your friends.
You can use your images for commercial purposes.
My experience with Photosonic
Photosonic is designed with an easy signup process. After logging in, it gave me a pack of 10 free credits. It helps you to check the product quality before actually buying it.
The text that I used to generate the AI image was – "It's raining outside and you're happily enjoying the moment". See what output I got here.
As you can see in the image I have selected a photo style and it shows these results. UI/UX is clean and interactive, you get different style options to choose from. Choosing the right image size as per your requirement is also possible.
Also, it gives you the option to select image resolution:
Square (512*512)
Horizontal (768*512)
Vertical (512*768)
When I go to Anime style "It's raining outside and you're happily enjoying the moment "it shows amazing results.
Things that I like
It has easy to use interface
Comes up with various artistic styles and image customization options
Takes a few seconds to produce the output, you don't have to wait for too long.
Things that I didn't like
Produce good quality images, sometimes producing blurry and distorted images.
Up to 10 free credits are available then you have to go for a paid version.
However, it provides only 2 outputs at one time. In my opinion, both look photorealistic.
One of its amazing features is enhancing the image, but sometimes it changes the output.
Is Photosonic one of the Best AI Image & Art Generators? Well, try yourself with 15 free credits below.
If you were looking for the best tool for bloggers and writers, then it is here. Jasper is one of the most trustworthy platforms that work very fastly. The site claims that you don't need to waste your time on any photoshops or stock photos.
In a matter of seconds, Jasper creates 4 AI-generated images based on your prompt. Currently, it is trusted by 80K users and you can use it easily without any copyright worries.
Its plans start from $24/month which varies depending on your needs and go up to $500/month. You can also customize your plans by contacting the sales team.
Features Of Jasper Art
It has various customization options for your style, mood, and medium.
Creates high-quality Images.
It works 10X faster than other AI generators.
Gives chances for your art to get featured.
It doesn't use credits which means you can create unlimited images.
My Experience with Jasper Art
As per my testing, Jasper is an easy-to-use yet marvelous tool. I sign up on it then one freeform appears, where I enter the image prompt. It comes with other settings like style, mood, medium, and keyword.
I use this prompt to test Jasper Art: "It's raining outside and you're happily enjoying the moment, digital art".
And the results are amazing. I also tried different styles, mood, and medium for better results.
Things that I liked
It gives unlimited image generations.
User-friendly signup process and gives 4 outputs in one go.
Language support: it comes with 20 more languages
Things that I didn't like
Sometimes it generates images that do not fit our description
It doesn't provide a creative commons license, images can be used by others also.
Experience the Best AI Image & Art Generator that also creates AI content for you.
If the AI text-to-art generation feature is considered then after DALL-E2, NightCafe is the platform that delivers the best of this service. It uses the VQGAN CLIP algorithms where you can create the visuals of beautiful scenes by describing texts. NightCafe is also one of the best free AI text-to-image generators.
To use NightCafe it needs credits, 5 credits per day are availed for free and then paid plans start at $9.99/mo and go up to $79.99/mo. Check out more about the pricing and credit system of NightCafe from here.
Features Of NightCafe
You can create images from text using AI and here are its features.
Unlike other tools that either generate art from text or generate art from images, it does both tasks.
You can also create videos from texts.
Can be used from any device desktop, tablet, or mobile.
Features like bulk creation and bulk download are extremely helpful.
5 free creations per day.
My Experience with Night Cafe
I tested out different image styles and prompts and Night Cafe is amazing. I use its free trial version and for that, it doesn't ask for sign-ups or credit card details, which is great.
Night Cafe comes with a lot of customization options, print evolves, enhances, and shares. I tried the tool with the same text "It's raining outside and you're happily enjoying the moment".
And the output is great, I think this is something that I couldn't design myself
Thing that I don't like
It gives me ownership of the art that I have created.
I liked its credit system, as much credit I have, can create more images.
Thing that I don't like
Want to try a premium Ai image or AI face generator? Go for it now.
It comes with the simplest and most user-friendly interface, where you just need to describe what you want and you will get the desired AI art from texts. StarryAI is a freemium platform for art lovers.
You get 5 credits per day, if you want it for professional use then you can go for premium plans where either you can purchase credit packs or go for monthly plans that cost $11.99 per month.
Features Of StarryAI
Can use your creations for commercial purposes.
Available on Google Play Store and Apple Store.
Many customization options like styles, aspect ratios, etc.
Earn credits by performing tasks like sharing your creation on social media and others.
My Experience with StarryAI
Starry AI app is available on Android and ios, in my testing, I'm using its web version.
It gives 5 free credits and asked for card detail.
After entering details it starts generating output.
Here I have entered this prompt It's raining outside and you're happily enjoying the moment with Canvas Size, and Model, and these are the results:
This tool creates these images in a few minutes and the quality of the images is really satisfying
It provides many customization options and in my testing session I added some reference images, and it works very well.
Things that I like
Customization options are available
One can choose from three different AI
Also available on Android and iOS
Things that I don't like
DALL-E2 is developed by the company named 'OpenAI' which is also known for some other popular AI tools. By using it you can create images within seconds without putting any extra effort.
DALL-E2 has a credit system in pricing methods, where 1 credit is equivalent to 4 images. For the first month you get 50 free credits after that every month you will get 15 free credits (60 photos). However, if you want to generate more images then you can top up with $15 for 115 credits (or 460 images).
Currently, DALL-E2 is available in its beta version to use while DALL-E is available to use fully.
Features Of DALL-E2
This is by far the most talked about AI that creates images from text.
Generates multiple styles of an image
Can add or remove elements from the image
4x better resolution than its predecessor DALL-E
Full usage rights for commercial use of images.
My experience with DALL-E2
As per my experience, the image output from DALL-E2 is superb and it is user-friendly.
Sign up process is Simple. For the first month, it gives 50 free credits and it costs $15 for 115 credits. I tried different outlines and the results are stunning.
It also gives an editing tool, which helps me to add more relevant keywords and produce new images based on older ones. Here is the result of my search with this text "It's raining outside and you're happily enjoying the moment".
Things that I loved about DALL-E2
It delivers tips on how to improve art better.
It takes a few minutes to generate output. It comes up with 4 separate images.
You can download, edit, save, and share your image
Things that I didn't like
One thing that I don't like is the pricing and sometimes it needs more time to give satisfactory results.
The second-best artificial intelligence image generator tool on our list is Deep Dream Generator founded in 2009 by Google.
To use it all you have to do is upload an image and get different versions of that image using the AI algorithm of the tool.
It has an energy system in pricing, where you get 35 energy for free after signing up. Three paid plans are available that cost $19/month (advanced), $39/month (professional), and $99/month (ultra).
One disadvantage of this text-to-picture AI tool is that it does not offer refunds easily. If you want to know more about the energy and pricing system of Deep Dream Generator then click here.
Features Of Deep Dream Generator
Offers three ways to generate AI art from the images, which are Deep Style, Thin Style, and Deep Dream.
Deep Style – Uses the most advanced technology than the deep dream approach to generate artistic images. However, it takes more time to generate output images.
Thin Style – Lacks advanced transformations in mage that you get in Deep style, but processing speed is faster here.
Deep Dream – This technique is more fascinating for those who want to explore how neural network works.
Its AI algorithm tries to act like how our brain thinks and creates images in that aspect.
My Experience with Deep Dream Generator
First, I sign up and then generate an image. It gave me 3 ways to generate an output from the image: Deep Style, Thin Style, and Deep Dream.
I use Deep Style and the results are amazing, here you can see what I have created: it's raining outside and you're happily enjoying the moment.
It comes up with three energy plans. I have selected a one-time energy pack for $9 which gives me 60 images. Overall, the tool was good it makes these images in 2-3 minutes
Thing that I like
Gives various styles to generate an image
Comes up with the option of publishing our outputs, also we can interact with other artist's creativity
The privacy option is good, our work will be private and it cannot be shared without our permission.
Thing that I don't like
It is costly, its basic plan starts at $19/ month.
It requires good prompt-generating skills, as improper prompt doesn't provide quality output.
It is a free tool and it uses the more advanced version of DALL-E2. For using this amazing tool, you just require a Microsoft account. It can be a great alternative to different AI text-to-image generator tools as it is free. It gives 25 free boosts for one week, after that it will take more time in image creation.
Features:
Available on Android and iOS
Gives images in 1024 x 1024 jpg format
Provide 4 images that you can save, share and download
It doesn't use credit, it works on the boost system, you can get more boost by using Microsoft reward.
My experience with Bing AI
It gives 25 boosts so that we can create images more quickly.
In my testing, I found that it gives 4 outputs and the images are really awesome,
Image resolution – 1024 x 1024 in jpg format, I have generated these images with this text prompt: it's raining outside and you're happily enjoying the moment".
You can see the results:
Things that I liked-
It gives tips on how to create better
We can add styles in our text prompt and it will generate them accordingly.
Things that I don't like:
Once our boost got finished, then it takes a lot of time to generate images, sometimes it takes 5-6 minutes.
Artbreeder is the most creative set of AI art tools that can create images in seconds. It generates new high-resolution images by breeding multiple images that can not even think of. No, special skills are required to use this platform. It uses BigGAN and StyleGAN models in technology.
It allows 6 image generation for free after that you will have to buy the subscription that starts at $8.99/mo and goes up to $38.99/mo.
Features Of Artbreeder
Google Drive sync
Fast image creation (with subscriptions)
Private mode (with subscriptions) where your work is private forever.
Manage images in folders and also download them in JPG or PNG format.
Create anime figures, landscapes, illustrations, and many more.
My Experience with Artbreeder
Artbreeder is an easy-to-use tool. It doesn't require signup. In my free testing, it let me draw images and forms and ask me to input detail on what type of image I wanted.
I have to wait for a few minutes, it loads ads before processing output but also it comes up free so it's not that bad to watch ads.
Here is the art that I have generated: It's raining outside and you're happily enjoying the moment,digital painting I have added one image for reference.
Things that I like
Easy-to-use interface.
We can add reference images to help, create better output.
Our creation will be saved in a folder.
Things that I don't like
It does not generate a photorealistic image.
Shows ads, that's quite disturbing.
It is quite similar to StarryAI in features. To use Dream, you just have to enter a prompt within 100 characters and choose art style then get your output. You can also input images for reference of output.
It is a free-to-use product but if you want the physical framed print of your creations, it will cost you between $20 to $100 based on size and style.
Features Of WOMBO Dream
Available for IOS and Android (Play Store).
Sign-up is not compulsory for using it.
26 art styles are available.
Can remix your NFTs.
It is an unlimited AI text-to-image generator that is totally free.
My Experience with Wombo Dream
As I Open its page, the form appeared. I entered my prompt it's raining outside and you're happily enjoying the moment". It has created one output within 30 seconds, which is just awesome.
It doesn't ask me to sign up which is time-saving for me. But in my testing, I found that it only gives one output at one time and if I want more output then I have to subscribe to a premium version.
The thing I Like
Mobile and desktop versions are available
It comes up with different art styles and you can edit your output
It does not require signing up for creating one output
It allows us to publish our artwork
Things That I Don't Like
It gives other features only in a premium version
It only generates one output
DeepAI has become the hub for artificial intelligence lovers over the few years. Its software like Zendo and research knowledge are of primary importance to many people. It offers many AI-based APIs and one of them is an AI text-to-image generator.
The price of its API is $2 per 1000 API calls.
Features Of DeepAI
Basic AI text-to-art generator, the company itself states not to expect realistic creations as it is a very light AI.
Can create cartoons also with CartoonGAN.
Control the details of images like colors, textures, etc.
My Experience with DeepAI
In my testing, I found this tool very useful.
I just, enter my text prompt, select style, and generate the prompt: "It's raining outside and you're happily enjoying the moment". It is a really good tool, it takes a few seconds to generate output. And these are the results:
Things That I Like
DeepAI-generated images can be used for commercial purposes.
It gives different styles, shapes, and enhanced features.
Things That I Don't Like
Image quality is fine, but when we make larger prints it becomes blurry.
Some of its styles do not give a proper image.
Bonus Tools
Try three more tools listed below. Apart from the top 10 art generators we mentioned above, you can give the below-mentioned tools a try as well. We will keep on adding more tools after testing.
Hotpot has a collection of 15 AI tools related to graphics and art to spark the creativity of both experts and non-designers to automate tasks. One of those tools, which we are looking for is AI Art Maker by Hotpot. AI Art Maker of Hotpot creates art and images based on text descriptions.
It also works on a credit system; the credit packs start from $10/mo and go up to $200/mo.
Features Of Hotpot
Images created from credits are considered licensed and thus can be used commercially.
3 different AI models create art and images.
Create images in bulk (for paid users).
14 different style options are available.
Offers extra discount on request for students and non-profit organizations.
Provides API access on request.
NeuroGen is a simple tool that you are looking for. It is an AI text-to-image generator that falls under low-budget tools. No downloads, setups, or installs are required to use NeuroGen.
Initially, it offers a free trial for creating 50 unique images after that it costs $10 for 500 images.
Features Of NeuroGen (best text-to-image AI)
Multiple styles are available to try.
The output image can further be edited by its inbuilt image editor.
Offers image generation API (currently on private beta, available on requests).
As the name indicates the word 'Anonymous' this tool also works in the same way to protect your identity. The good thing about this tool is that it is a Free AI image generator for personal use. However, for commercial use, you will have to buy the license starting from $19.99 per month.
It's an image-to-image generator that can be useful if you want to stay away from the copyright area and want to create unique projects. It magically creates images using your face via any old image. It can be used in making copies, avatars, editing images, and other people elements.
Features Of Anonymizer
Upload photos of your face to get similar look-alike photos.
Get thousands of look-alike photos of your face for free.
It does not store any of your photos, so privacy is no concern here.
Images can be used in your social media accounts, on gaming platforms or on others.
You can also generate faces by selecting the characteristics of the appearance.
---
How Does AI Text To Art Generators Work?
The best text-to-image AI generators are built and programmed with advanced algorithms that fetch up the text and try to convert it into images. Sometimes the images as output are realistic and sometimes it has no sense.
Different tools use different technologies, some use the VQGAN+CLIP algorithm while the majority are based on Natural Language Processing (NLP), the same technology which is used behind the popular AI writing tools like Jasper and Rytr. Few tools use Artificial Neural Network (ANN) technology that tries to function similarly to the human brain, they even make images similar to the mechanism that our brain does, you can imagine how much the scope of artificial intelligence in the near future.
As of now, in some aspects, these AI text-to-image generators are not that accurate to provide the human touch in designs but seeing the recent advancements in AI technology it is sure it will surpass human designers and artists for sure.
---
Conclusion: 10 Best AI Text To Image Creators
These text-to-art AI generators are evolving with newer updates and can be used for multiple purposes. Ai image generator from text made it possible for non-designers to express and present the visuals in their mind to this world by just describing the scenes.
Out of all these 10 best AI text-to-image generators which one do you like the most? Tell us in the comment section below.
Want to learn about GPT-3 to generate AI-based content, see our latest Scalenut review.
Latest Post