Are you struggling to create or write a piece of work that is different from your competitor? If yes, then you need a tool like QuillBot. In this article, you will get a detailed QuillBot review and I will also share my experience with it.
Artificial Intelligence is the future the way this technology is progressively developing with time proves its importance. The tool, QuillBot is also based on this technology. It is currently used by more than 150 million writers all around the globe.
Let us know about this tool in the next section.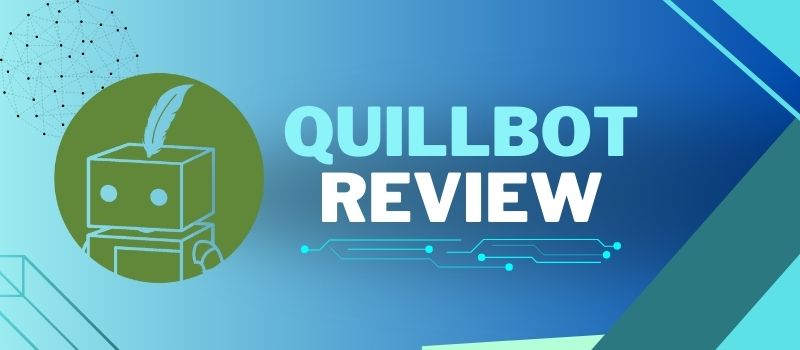 ---
What Is QuillBot?
QuillBot is an AI-based multi-featured, especially, paraphrasing tool that can generate multiple copies of one content without changing the meaning of the sentences.
Besides paraphrasing, it also offers five other related requisite tools, which are grammar checker, plagiarism checker, co-writer, summarize, and citation generator tools. So, we can refer QuillBot as the platform has a collection of 6 AI tools (including paraphrasing functionality).
The company claims that its tools are used by more than 50 million users from more than 40 countries and thus making it a global platform.
QuillBot was launched by its CEO and co-founder Rohan Gupta in the year 2017 and right now it has more than 10 million monthly active users.
---
QuillBot Features & How To Use Them?
QuillBot is primarily a paraphrasing tool but it also offers 5 other functionalities which you can use by reading the para's written below.
To use any of the QuillBot features, visit its official site, click on the tool from the left dashboard that you want to use, input the text, and get the output.
Paraphraser
This tool will rewrite your text in a better enhanced version by keeping the meaning of the original sentence as it is. Last year, Quillbot has paraphrased 135 billion+ words.

You can check the demo of the paraphrasing tool in the snapshot attached below.
You can even control the quality of paraphrased output content and bring many variations in one input through the special features of the QuillBot paraphrasing tool which are called 'Modes'.
There are a total of 7 following modes available within the paraphrasing tool. Let's see how they work.
Standard: This mode is selected by default when you open QuillBot and it tries to make the sentence more natural by keeping the real sense of the input content.
Formal: Want a more professional output? Select this mode of paraphrasing.
Fluency: This option makes sure the content is authentic-sounding and free of grammatical errors. Fluency mode undergoes the fewest modifications, also the meaning is unchanged. It is set to the lowest setting for synonyms.
Simple: In this mode, the output is made which is easy to read by everyone.
Creative: The maximum modifications are done in this mode to make the content more creative. However, the possibility of deviation from the sense of original content is also maximum in this mode.
Expand: If you want to rephrase your content to add more detail by increasing sentence length then this mode is ideal for use.
Shorten: It works just opposite to expand mode and paraphrases your original writing in a very precise manner to reduce the word count.
Related posts that you might like
Grammar Checker
Here you have to paste your text and it will identify all the grammatical errors that your content has by underlying the words with red color.
You can correct your mistake by clicking on underlying words or if you want to correct all mistakes at once then click on the "Fix All Errors" button.
Plagiarism Checker
This is the recently added feature of QuillBot. You need to have a premium plan to check for plagiarism. You can either paste your content or upload it in txt, pdf, Docx, and HTML format to check for plagiarism.
I have personally used QuillBot plagiarism checker to know its quality & I was amazed to see the results as they were more accurate than some dedicated tools for plagiarism checking.
In your plan, you get 20-page scans per month (250 words = 1 page). If you want to scan more pages, you can buy an add-on page subscription for checking plagiarism, which costs $7.45 for 25 pages, $24.95 for 100 pages, and $49.95 for 250 pages. But, purchasing additional pages for plagiarism checking will be an expensive deal. Instead of that, you can switch to some other professional plagiarism checker tools.
In the case of plagiarized content, it ensures proper authorship and citations are added.
Co-writer
I found this feature the best as in the co-writer tool you can use all different tools in one place without switching to another tab. Most importantly if you are writing on any topic by researching then also you can research on the same tab and paraphrase the material just there or after completing the full writing as per your convenience.
This tool hence saves a lot of time that would have gone into switching to multiple tabs and returning here to paraphrase.
Check the demo content in the co-writer tool as shown in the snapshot below.
You will get the highlights from the top articles posted on the web. In addition to this, you will get content suggestions, citations, analytics, and cloud storage where your work will be saved.
Summarizer
As the name shows, it has the work of highlighting the main points of the article in a well-defined summary. You can summarize your content in two parts either in key sentences (bullet points) or in paragraphs.

You can change the length of the summary from the slider at the top.
Citation Generator
You can generate the citation for a website, book, or journal with tons of format options available. By default, MLA (Modern Language Association) style is selected.
It is available for free so anyone can use it. If you want to know more about citation and citation style then read this guide.
---
Top 5 Reasons To Choose QuillBot: My Experience
Now let me give you the 5 best reasons from my experience to choose QuillBot over any other paraphrasing tool available on the market.
1. Extensions
Since you can not go to the webpage of QuillBot every time to write, hence having an extension for your favorite writing platform is a must.
That is why QuillBot came up with its three extensions which makes it one of the most used tools.
Chrome extension: Visit the Chrome web store from here, select the 'Add to Chrome' option and then tap on the 'add extension' button it will be installed.
MS Word add-on: Read this guide to install QuillBot for MS Word.
And Docs extension: Visit Google workspace from here, then tap the install button and select 'continue' on the popup, allow the permissions, and start using it.
2. Most Affordable
No doubt it is one of the cheapest paraphrasing tools to use. Moreover, you get multiple tools here for free, which is one of the best reasons to choose QuillBot.
3. User-Friendly Interface
Believe me, you will not need any video tutorial or blog guide, as it has a very beginner-friendly interface so that a person with no technical knowledge can also explore the features of this platform.
Unlike its alternative Jasper AI, it is very simple to operate by just using it once.
4. Powerful Plagiarism Checker
As I have already discussed this point previously, the plagiarism checker of QuillBot can easily compete with the popular dedicated plagiarism checker software available in the market.
Watch the YouTube video below where QuillBot's plagiarism checker is compared to Turnitin's plagiarism checker.
5. Collection Of Tools In One Platform
It is a collection of 6 tools in one place, if you look at alternatives to QuillBot there is hardly any software that offers all these tools in one place.
For example, in Grammarly, you get a grammar checker, and a plagiarism checker but there are no paraphrasing and citation generator tools.
---
Major Drawbacks Of QuillBot
Below are the primary drawbacks of QuillBot that you should know before finalizing this tool for writing or paraphrasing.
No 24/7 customer support.
Also, no dedicated support is provided to premium customers.
The plagiarism checker scans only 20 pages a month, which is very low. However, you can buy additional pages
There are no plans that come with the feature of creating a summary with unlimited words.
Provides output only in the English language.
QuillBot Pricing Analysis & Plans Comparison
QuillBot plans and pricing systems are very uncomplicated. It offers only two plans.
Free
Premium
Free Plan
It only requires you to sign up and start enjoying the perks of the free plan that are described below.
Supports paraphrasing of 125 words.
Only standard and fluency modes are available in paraphrasing.
Allows writing a summary of up to 1200 words.
3 synonyms options and 1 freeze word and phrase are supported.
Premium Plan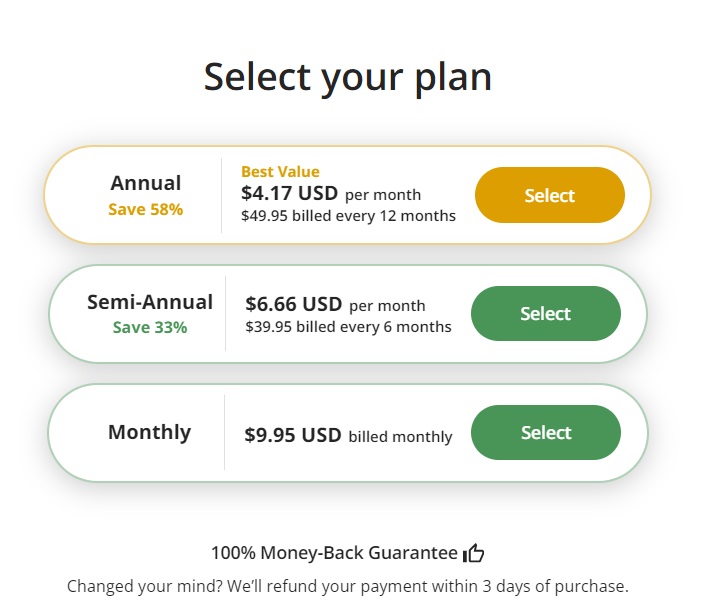 This plan can be subscribed for 3 different durations, Annual: $4.17/mo, Semi-annual: $6.66/mo, and Monthly: $9.95/mo.
The following features are provided to you in the premium plan.
Supports paraphrasing of unlimited words.
All 7 paraphrasing modes are available.
Allows writing a summary of up to 6000 words.
4 synonyms options and unlimited freeze words and phrases are supported.
Advanced grammar rewrites with faster processing speed.
Inbuilt plagiarism checker to avoid any accidental plagiarism.
My Analysis
QuillBot plans offer a unique set of tools at a very reasonable or the cheapest rate in the market. The best thing about the free plan is that it doesn't ask for any payment details like credit/debit cards.
If you go with the annual plan, you can enjoy a discount of 58% and 33% on semi-annual plans which is a good saving option.
The only thing that I wish could be better in the plans and pricing section of QuillBot is its money-back guarantee which is of only 3 days, it should be at least 1 week so that the customer can easily explore the premium features without hurrying.
---
Best Alternatives Of QuillBot
Below are the three alternatives of QuillBot we recommend using if you are a continuous writer.
Grammarly
Grammarly is a popular grammar checker tool that probably every writer must have heard of. It also offers a plagiarism checker, detects the style and tones of the writings, and suggests synonyms of the words. It also offers a free plan and paid plans start at $12 per month.
Want to save on writing? We have 20% OFF Grammarly student discount.
Spin Rewriter
This tool is suggested to those who are indulged in article writing at the next level as it supports the bulk rewriting of articles by not checking word to word of the original article, instead it first understands the context and meaning and then generates a new article.
It has several integrations even with WordPress and this is very expensive.
Pricing starts at $47 per month.
Wordtune
It is considered one of the best tools for rewriting but it has one drawback, it can't check grammar and spelling errors accurately. Wordtune also offers a free plan and paid will cost $9.99 per month.
---
QuillBot Review: User Recommendation
In this section, I will let you know who should use this tool and who shouldn't irrespective of what the company claims.
Who Are Recommended To Use QuillBot?
Following people who fall into these categories or are similar to the ones listed below can use QuillBot to get better results.
Students for essays, letters, and other academic writings.
Researchers.
For writing media and news articles.
Writers who want to publish their book
For any kind of unofficial writing.
Who Are Not Recommended To Use QuillBot?
People who fall in the below-mentioned category are advised not to use the QuillBot.
Blog content writers.
SEO specialists (I do not find any output of QuillBot that follows SEO guidelines, sometimes incidentally it gives good output but it is not the case for all outputs).
---
FAQs: QuillBot Review 2023
1. Is QuillBot good for paraphrasing?
Yes, QuillBot offers 7 advanced modes for paraphrasing your text in different qualities.
2. Can I rephrase the same text for a different result using QuillBot?
Yes, you can generate multiple results by either changing the modes or by clicking on the 'Rephrase' button again in the same mode.
3. Does QuillBot provide API?
Earlier it used to offer API but now it stopped offering API.
---
Conclusion: QuillBot Review
Over 100 of our students are using Quillbot and other AI writing tools.
This QuillBot review was done after using and analyzing the platform for more than ten days. Overall this tool is ideal for paraphrasing the text, generating citations, and plagiarism checking. For other features, like grammar checking, this tool is just average.
Is anything in your mind which is not mentioned in this QuillBot review? If yes, then share your thoughts in the comment section below.
Recommended read: