With the ongoing development of artificial intelligence (AI), start-ups in the field have got immense success and still, the scope for growing technology with AI is vast. One such AI-based platform is Jasper AI, whose key statistics like the Jasper AI users, revenue and others are discussed in this article.
In short, Jasper is an AI-based writing assistant which has improved itself by adding more amazing features, so it can now be accurately called an AI content creation platform.
Recently Jasper has raised huge funding which has been discussed in the following sections.
Jasper AI Key Stats
Jasper has more than 70,000 monthly paying global customers.
It recently raised USD 125 million in series A funding.
The current valuation of Jasper is USD 1.5 billion.
It has a total of 143 employees.
Till now more than 4.5 billion words have been written using Jasper AI.
Generated revenue of $45 million USD in the year 2021, as per our team, they are expected to cross $80 Million USD in 2022 – 2023 Fy.
We have an Offer, Test drive Jasper, grab Jasper.ai free trial and Jasper.ai black Friday deals.
Overview Of Jasper AI
Jasper is an AI-powered platform that can create any kind of digital content according to the requirements of users, be it social media posts, professional emails to writing books all such tasks can be done using this AI platform without much effort, and also makes the content creation process up to 10X faster.
Founded in: Jan 2021.
Founders:  John Phillip Morgan, Dave Rogenmoser, and Christopher Hull.
Headquarters: Austin (US)
CEO: Dave Rogenmoser
Jasper AI Revenue & Other Financial Stats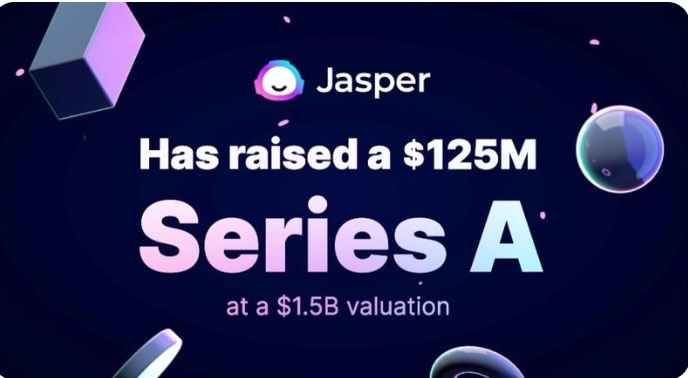 Jasper has raised all its funding in three rounds. Venture round – 1 April 2021, seed round – 5 June 2021, and series A – 17 Oct 2022(the latest one). The total funding raised in three rounds is $131 million out of which $125 million was raised from the latest round, Series A funding where the company was valued at $1.5 billion.
The revenue generated last year, 2021, was close to $45 million and it is expected to get almost double in the year 2022 -23, approx $80 million.
This round of funding got the total of 7 investors with Insight Partners as the lead investor. Six other investors include Founders Circle Capital, Foundation Capital, Coatue, Bessemer Venture Capital, IVP, and HubSpot Ventures.
The company released a statement where it informed that the raised amount will be used for the betterment of the newly launched Jasper products and for improving customer experience.
Jasper AI Users & Other Stats
As of now, Jasper has more than 70,000 paying customers that are paying for using its AI-based software.
On average, the website of Jasper AI receives monthly traffic of more than 5.5 lakhs out of which the majority is from Asia.
The team of this platform consists of a total of 143 employees and when revenue is considered per employee then it comes closer to $314,685 per employee.
In the initial year of launching the platform, Jasper had less than 25 employees and within a year it got 140 plus employees in the team which is a jump of more than 600%.
What Functions Can Jasper AI Perform?
You only need to provide the basic details of the context related to your task and Jasper will generate multiple copies of the results and you can choose the one which is best.
It has more than 60 use cases, the most used ones are mentioned below.
E-commerce product description
Social media and search engine ads headlines and primary text
Full blog posts or components
Social media posts and post captions
Full email or components
Text summarizer, paragraph generator, sentence expander, and content improver
YouTube video scripts, descriptions, titles, etc.
Blog post and website SEO
Quora answers
Review responder and many more.
New Inventions & Roadmap Of Jasper
Since its launch, Jasper has been updating its features and bringing some exciting and useful features that make Jasper AI users not go for any alternative of the platform. Let us know what are the latest inventions of Jasper.
Jasper Chrome Extension
For a long time, this has been the topic of debate. But now Jasper has vanished its drawback of not offering Chrome extension that you can use while working on docs, email, Canva or on some other platform.
Chrome extension of Jasper is already being used by 10,000+ users. If you want to download Jasper AI Chrome Extension, click here.
Jasper Art
The recently launched feature of Jasper lets you convert your text into images. Prior to the launch of Jasper Art, it was only an AI copywriting assistant and its competitors were also AI-based copywriting assistants like Copysmith or Rytr.
But with the launch of Jasper Art, it has started competing with already renowned names like DALL-E2, Starry AI, etc. So basically, it has started acquiring customers from two different industries which are copywriting and graphic designing which will result in getting a higher number of customers than before.
Want a detailed review of Jasper Art? Check Jasper Art Review 2023.
Acquisition Of Outwrite
The company Jasper AI is in the process of acquiring another AI-based startup, Outwrite, which is a grammar and spelling checker platform that already has 1 million users. This acquisition will be possible because of the latest funding of $125 million received in the series A round.
Both companies are likely to be unified under the same brands by the year 2023 and by doing so, Jasper will surely be one of the rarest AI platforms that offer copywriting, AI image generation, and grammar checker tools all in a single platform.
FAQs: Jasper AI Users, Revenue & Stats
1. Can I use Jasper for free?
2. When was the last funding round for Jasper?
The last funding round for Jasper was reported on 17 Oct 2022 which raised $125 million.
3. Where is Jasper's headquarters?
Jasper's headquarter is located in Austin, Texas, US.
4. What is the current valuation of Jasper company?
The current valuation of Jasper AI is $1.5 billion.
Conclusion: Jasper AI Users & Other Statistics
It has been less than 2 years since its launch and Jasper has already raised such a big amount looking at the roadmap with the introduction of Jasper Art and collaboration with Outwrite, there is no doubt that the company is going to be the AI giant in the near future.
The recent funding of $125 million is a remarkable achievement that will help in evolving Jasper AI to the next level.