Are you looking for the most accurate and detailed review of Rytr? If you are looking for Jasper AI free trial or Jasper AI Review, you must try Rytr first. Rytr is the best alternative to Jasper.AI which offers a lifetime free trial and pricing just $9.
If yes, then you are at the right place as in this post you will find the Rytr Review that includes its complete specifications. In addition to this, you will also get to know the process of getting a Rytr free trial.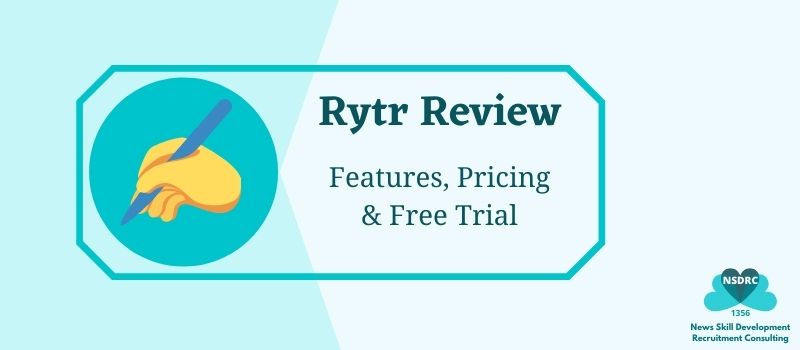 Rytr is the best AI content writing tool. Just enter your keywords and it will create outlines, paragraphs, titles and even long articles.
Use the link below to grab a lifetime free account to write 5000 characters per month.
Before moving on to more details and features of Rytr, first, let us know what Rytr is and how it works.
What Is Rytr?
Rytr or Rytr.me is an AI automated content generation software. It automatically writes almost all types of content for you by just feeding a minimum amount of information related to your requirements.
It works on GPT-3 technology which extracts and reads the data related to your keywords from the internet and then generates a new original copy for you.
Currently, it is being used by more than 800,000 marketers and content writers all over the world. The best thing with Rytr is that it offers many additional features than its alternatives too at a more affordable price.
The content that is produced by Rytr is grammar error-free. We have a Grammarly student discount if you need a special tool for professional writing.
Key Features Of Rytr
Following are the main features of Rytr.
More Than 30 Use Cases
Use cases are basically the areas where you can use Rytr to write the content for you. For example, there is a use case called job description. It means by clicking on this use case you can generate impressive job descriptions.
More than 30 use cases are available in Rytr that cover all your writing needs. Following are the available use cases.
Copywriting Framework: AIDA
Copywriting Framework: PAS
Social media ads: Facebook, LinkedIn, Twitter ads
Landing page and website copies
Product description (bullet points)
Reply to reviews and messages
Text expander, shortener, improver
SEO meta description and title
YouTube channel description and video description
Supports 30+ Languages
Rytr supports the content generation process in more than 30 languages which is quite good and makes it a tool that can be used by customers who prefer content generation in their native languages.
Below are some languages that are operable in Rytr.
Arabica, Chinese, Czech, Danish, Dutch, English, Finnish, French, German, Greek, Hebrew, Hindi, Indonesian, Italian, Japanese, Korean, Norwegian, Polish, Portuguese, Romanian, Russian, Spanish, Swedish, Thai, Turkish, etc.
20+ Writing Tones
You can show your emotions to your readers through your writings. For that reason, you get access to 20+ different tones of voice for selecting the best tone for your content.
There is a great significance of tones, especially in the content marketing industry. Appreciative, convincing, awestruck, inspirational, assertive, and compassionate are some examples of tones.
Integration With Semrush
You can connect your Semrush account from Rytr. Once it is connected you will be able to get enhanced keyword suggestions whenever you use any use cases related to blog writings.
Native Plagiarism Checker
The built-in plagiarism checker of Rytr is powered by Copyscape which itself is a renowned brand in the industry.
The content that is generated for you is checked whether it is unique or not from the plagiarism checker and hence the risk of getting the plagiarised content gets eliminated.
Browser Extension
To make it a more user-friendly and easy-to-use tool, Rytr also offers its browser extension for Chrome users which can be downloaded and installed from Chrome Web Store.
Rytr Free Trial Or Free Plan
Rytr offers a free trial for all its new users. This free trial is available in the form of a free plan that has no duration limit and is available for a lifetime.
Best for: Exploring the features of Rytr and for beginners who started using AI writers.
You will get the following things on Rytr's free trial.
Up to 5000 characters generation each month.
Access to all the use cases of Rytr.
Operable in 30+ languages.
Built-in plagiarism checker powered by Copyscape.
Access to the premium community.
Credit card, debit card, or any kind of billing details are not required.
Rytr Free Trial 2023: How To Get It?
Follow the steps described below to get the Rytr free trial.
Step 1: Click on the free trial link here.
Step 2: Click on the "Start now" button under the free plan.
Step 3: Select the method of signing up among the available options of Google, Facebook, LinkedIn, and email.
We insist you sign up using email so that you will be able to get the information of all updates on your mailbox.
Step 4: Decide your use case and select the tone and language from the dashboard.
Congrats! You have got access to the free plan of Rytr now you can use it.
Rytr Premium Plans And Pricing
Rytr offers the two paid plans for the users who are habitual of it or need the use of Rytr very frequently.
1. Saver Plan
The Saver plan costs $9 per month or $90 per year (2 months free in annual billing). This plan includes all the features of the free plan and has a limit of 50,000 characters generation per month. In addition to that, it lets the user create their own custom use case.
Best for: Individuals who often write short-form contents that collectively result in less than 50 k characters.
2. Unlimited Plan
This plan costs $29 per month or $290 per year (2 months free in annual billing). All the features of the saver plan are given here. Also, priority email and chat support are available in this plan which is not available in any other plan.
Best for: Businesses and marketers who are highly dependent on AI writers with unlimited character generation per month.
FAQs: Rytr Review And Free Trial 2023
Check the most asked questions and their answers about Rytr review and its free trial.
1. What is Rytr?
Rytr is an AI-based software that writes the different types of content within a fraction of a minute and hence it reduces the time of writing.
2. Does the free trial of Rytr require a credit card?
No, the free plan of Rytr does not require any kind of billing information.
3. Is Rytr's customer support good?
The customer support system of Ryt is one of the best in the industry. It offers the live chat feature, email support and for the users of the unlimited plan, it offers dedicated priority support.
Final Words: Rytr Review 2023
If you have planned to switch to AI software for covering your writing needs then the free plan of Rytr is the best opportunity to grab and understand the working of AI software.
In case, if you are looking for AI software for very frequent use in your business then the unlimited plan of Rytr is best for you as other plans have limits that will become barriers to your writing. Tell us about your opinion of Rytr in the comments section.
You may also like to read:
Other Related categories: