Have you ever used Turnitin? There is no doubt that Turnitin is the best platform for checking plagiarism. But it has some demerits too. I know must be a reason that you are looking for its alternatives.
Here, in this article, I have included all the details and the list of best Plagiarism Checkers and Turnitin alternatives with key features and pricing.
What is a Plagiarism Checker? A plagiarism checker is an online software that looks for the similarities between two different works and helps you to decide whether they are copies.
Mostly, plagiarism checkers use text-word matching techniques to determine if a student has used another writer's work without proper citation.
Since it is hard to track down plagiarized material digitally now as compared to textbooks where there are clear references in footnotes and bibliographic citations that carry the proper author names and publishing dates of the source material.
Turnitin: A Brief Wiki
Turnitin is known as the premium plagiarism checker with high intensity of accuracy. It was founded in 1998 as the online SaaS editor for schools, colleges, universities, and other educational institutions.
It is aimed to help students to improve their writing through plagiarism-free content. As soon as you submit your paper, Turnitin compares it with texts in its database of student work, blogs, books, and journals.
The assignment tool has plenty of AMU and APU classrooms that will instantly be uploaded to Turnitin's repository when you upload your work for grading. And you won't need to double-check on Turnitin.com.
Turnitin worked so well in all these years and was acquired as a subsidiary by Advance Publications for $1.75 billion in 2019.
10 Premium Turnitin Alternatives To Consider
Many premium tools are available in the market that will give you the best outcome with high accuracy.
I have researched a lot about individual features and also tried some of them by myself. So, have a brief look at them and choose which fits you better.
| Turnitin Alternative | Crawled Webpage Database | Turnitin Partnership | Paid/Free |
| --- | --- | --- | --- |
| Scribbr | 99.3 billion web pages | ✔️ | Paid+Free |
| Grammarly | 16 billion web pages | ❌ | Paid+Free |
| CopyScape | Unavailable | ❌ | Paid+Free |
| iThenticate | 99.3 billion web pages | ✔️ | Paid |
| Quetext | Unavailable | ❌ | Paid+Free |
| Unicheck | 99.3 billion web pages | ✔️ | Paid |
| PlagScan | 99.3 billion web pages | ❌ | Paid |
| ProWritingAid | 8 billion web pages. | ❌ | Paid+Free |
| Enago | 99.3 billion web pages | ✔️ | Paid |
| Plagiarism Checker X | Unavailable | ❌ | Paid |
1. Scribbr
Scribbr is an in-partnership and authorized service with Turnitin. It is the best choice for you if you belong to any educational authority. It holds crawled data from over "99 billion web pages and 8 million publications" which increases its plagiarism-checking accuracy.
To check for plagiarism, you need to upload your document in PDF, .doc and .docx format. You can check plagiarism in both free and premium options in which the premium one will give you more accurate results.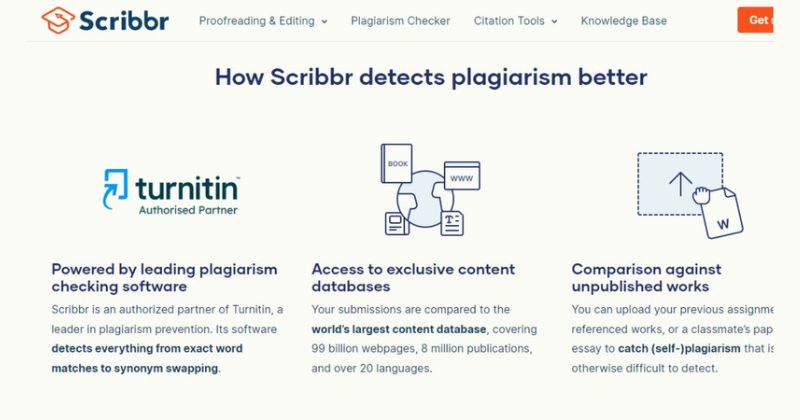 Here are some key features that you need to look at.
Key Points:
Excellent proofreading with improved language.
Generates APA and MLA Citation free
Price Transparency
Checks in 20 languages
Uses Turnitin Software
Free plagiarism checking option
Fast results
Pricing:
| | | |
| --- | --- | --- |
| Small Document with 7,499+ words | Regular Document with 7,500 – 49,999 words | Large Documents with 50,000+ words |
| $15.90 | $26.54 | $37.18 |
2. Grammarly
I guess this name is very familiar to you. You must have seen advertisements on Grammarly on many social sites. But do Grammarly is a great option?
Grammarly is one of the best AI writing assistants that you need while writing any content in many languages. It makes your content errorless in the perspective of grammar, spelling, and punctuation.
Grammarly has a database of crawled over 16 billion web pages as well as ProQuest's and this makes it an effective alternative.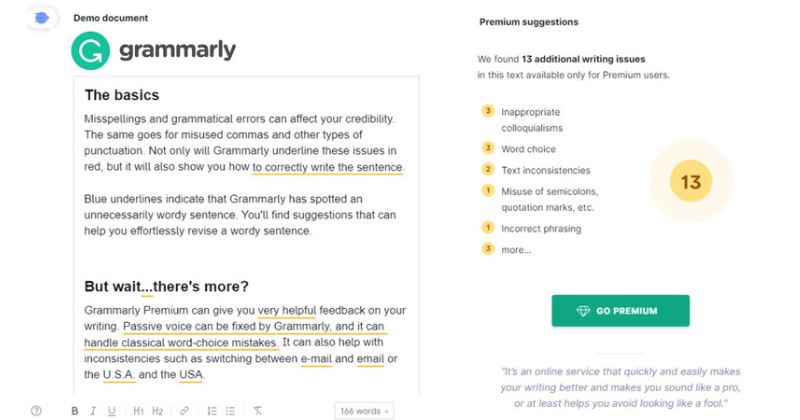 Key Points:
No grammatical, spelling, or punctuation errors
Synonyms and manner suggestions
Clarity in content
AI analysis and proofreading
Citations in APA, and Chicago formats
Pricing:
Having many premium tools, it provides high-quality plagiarism-free content for you. But you need to pay for it and switch to Grammarly's paid version. It has two paid plans, one is Individual Plan and the other is Business Plan.
| | |
| --- | --- |
| Individual Plan | Business Plan |
| $12.00/ month for the Annual Pack$20.00/ month for Quarterly Pack$30.00/ month for Monthly Pack | $15.00/month/member in 1-50 member team $14.50/month/member in 10-50 members team $12.50/month/member in 50+ member team |
3. CopyScape
CopyScape provides two product services that are a good alternative to Turnitin, one is CopyScape Premium and the other is CopyScape Copysentary.
(A) CopyScape: CopyScape Premium
If you were looking for a good plagiarism checker with affordable service availability, then Copyscape Premium is the one you should go for.
Premium users have access to more advanced features, like Batch Search and Offline Content Checking than those on the free service.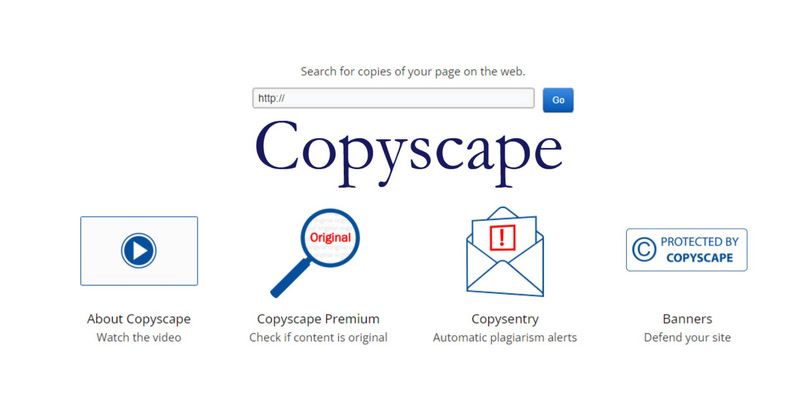 Key Points:
Access to check content offline just by copying and pasting.
It can check your content in any PDF, Word, or document with just by single upload of up to 10K words.
You can check for duplication of your content by building a private index.
You can work with the members of your team.
Citations in APA, and Chicago formats.
With the Premium API, Copyscape queries can be automated.
Integrates WordPress
Pricing:
CopyScape Premium asks you 3 cents ($0.03) per search which should be up to 200 words. If your search is higher than 200 words, it will charge 1 cent ($0.01) per extra 100 words.
(B) CopyScape: Copysentary
It is another product by CopyScape. With Copysentry's technology and features, it is the most advanced plagiarism guard available on the market.
Its technology and features automatically monitor the web for copies of your content, alerting you to the presence of these copies via email.
Key Points:
You can check the whole web daily or weekly for your copies.
Keep the data of your previous results.
Makes plagiarism checking easier for many cases and tracks them.
You can customize detection according to your needs.
You can choose those sites that you want to ignore.
Pricing:
CopyScapes's Copysentary has two paid plans, one is Standard and the other is Professional.
| | |
| --- | --- |
| Commentarytary Standa | Commentarytary Professional |
| $4.95/month per 10 pages($0.25/month per extra page) | $19.95/month per 10 pages($1.00/month per extra page) |
4. iThenticate
iThenticate is another high-profile plagiarism checker for students, educators, researchers, and publishers which also gives support to Turnitin. There are more than 1,500 publishers worldwide that use iThenticate to screen manuscripts for publication
It has comprehensive database coverage of
—89.4 million academic periodicals
—99.3 billion current & archived web pages
—open access to more than 200 million books, encyclopedias, pre-prints, and many more.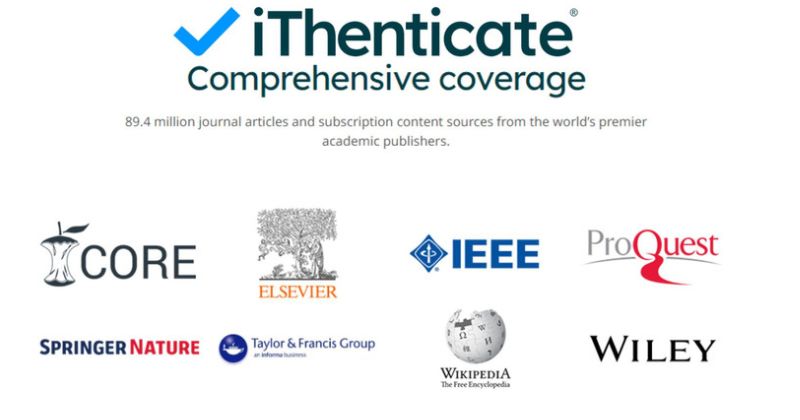 It also has partnerships with Crossref which provides a high-quality scholar database to iThenticate. This premium site is also trusted by many big names such as IEEE, Springer Nature, and Wiley.
Key Points:
Gives comprehensive results
Highlights the similarity of the content and catches its sources.
It helps researchers to remove and identify critical issues.
Each year it checks 14 million+ documents.
97% of the top 10,000 journals are cited by iThenticate.
Pricing:
The price range depends on whether you are an individual or an organization. It is three plans: Single Plan, Multiple Plan, and Customised Plan.
If you are an organization, then you have to choose the Customised Plan. You have to schedule a call to discuss and negotiate the price according to the number of users.
| | |
| --- | --- |
| Single Plan with 25,000 words | Multiple Plan with 75,000 words |
| $100/ year for 1 manuscript | $300/year for 3 manuscripts |
5. Quetext
The plagiarism-checking king feature in Quetext looks for plagiarism in your text, resolves other writing issues, and helps you create citations. More than 5 million teachers, students, copywriters, and many researchers are using this site in the current date.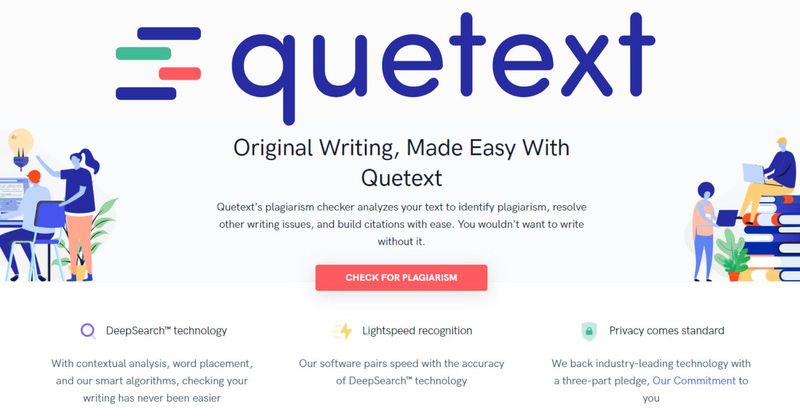 Key Points:
Includes the highlights of similarities with sources in the interactive snippet viewer.
Provides citation generator in MLA, APA, and Chicago formats.
Accuracy with deep research technology.
Provides you with a chrome extension for your ease.
ColorGrade's analysis & scoring.
Grammar check, source exclusion, spell check, and originality reports.
Pricing:
Quetext is available in both paid and free versions. If you are using its free plan then it will give you access to check a single page that includes 500 words.
Its paid plan has three categories: Essential, Professional, and Enterprise Plan.
| | | |
| --- | --- | --- |
| Essential Plan | Professional Plan | Enterprise Plan |
| $10.49/month$71.99/year | $20.99/month$143.99/year | |
| Check 200 pages with 100,000 wordsBulk upload of 5 files | Check 500 pages with 250,000 wordsBulk upload of 20 filesAdd 2 additional users with $3/month per user. | Check 1000 pages with 500,000 wordsBulk upload of 100 filesAdd 5 additional users with $3/month per user. |
6. Unicheck
For colleges and universities, it provides a full-featured solution for detecting text similarity, spotting text modifications, and preventing contract cheating.
The solution can be integrated into learning management systems, used standalone, or integrated with APIs.
It is currently used by 1,100 academic authorities worldwide which makes it more trustworthy for you. Over 1 million users have registered themselves on Unicheck and more than 124 million files have been checked by this platform.
Unicheck is now a member of the Turnitin family, so it is a good alternative for you. During the year 2020, Turnitin acquired Unicheck from Phase One Karma.
It has an AI-driven virtual assistant, Emma that helps educators to reduce contract cheating by
—Analyzing linguistic and stylistic aspects of writing, Emma points out any inconsistencies.
—Giving quick feedback from educators to students.
—Removing the burden of a high workload.
Key Points:
Takes 4 seconds per page to verify and analyze.
As fast as similarity checks, authorship verification is automatic.
Have a lifetime AI assistant to help teachers.
Quick spot-outs outs, quotes, matching texts, and references.
You can exclude quotes and references.
You can also compare your submission with its sources.
It notifies you about suspicious documents.
Safely navigates you to the sources.
Pricing:
Unicheck provides you with a flexible billing solution that is a very customized choice for you. You can bill up according to the number of pages you want to check. It has categorized the pricing into Personal, Business, and Educational Plans.
Educational Plan has applicable for those who want to use it for educational institutes of K-12 and higher education. You have to schedule a call and need to get approval with negotiating the price.
Prices are the same for Personal and Business Plan but it varies with features.
| Pages | Price |
| --- | --- |
| 50 pages | $10.00 |
| 100 pages | $15.00 |
| 250 pages | $30.00 |
| 500 pages | $50.00 |
| 1000 pages | $80.00 |
7. PlagScan
To ensure that documents are original, many academic institutions trust PlagScan. It is a high-quality plagiarism-checking software. Among plagiarism detection software on the market, PlagScan was ranked fourth by plagiarismblog.com in 2011.
Key Points:
PlagScan's document manager gives you effortless, smart, and clear navigation.
It moves your documents into the repository every 3 months automatically.
It gives you a multi-device login that is helpful to it anywhere.
The plagiarism reports are intuitive, interactive, time-efficient, flexible, able, and exportable.
You can receive assignments of the stud through PlagScan's submission portal.
PlagScan's Author Metrics is useful for detecting ghostwriting and does a great stylometry analysis.
API and LMS (Moodle, Canvas, LTI, and more) integrations.
Pricing:
It gives you various prepaid plans with various package combinations. You can pick them up whenever you want, without any subscription or membership.
| | | | |
| --- | --- | --- | --- |
| 24 pages- 6000 words | 70 pages- 17,500 words | 160 pages- 40,000 words | 400 pages- 100,000 |
| $5.99 | $12.99 | $24.99 | $49.99 |
8. ProWritingAid
Compared to other manuscript editing programs on the market, ProWritingAid offers even more features.
The ProWritingAid plagiarism detection tool checks your writing against 100 million published books and 8 billion web pages.
Key Points:
Provides browser extension.
AI-driven assistance for proofreading.
Gives you automated great suggestions to improve your writing.
Gives you a 14-day money-back guarantee on its subscription plan.
Provides masterclasses from expert writers.
Gives you author comparisons and citations.
Pricing:
You can choose the plan according to your requirement and the length of your content.
| | | | |
| --- | --- | --- | --- |
| 10 Checks | 100 Checks | 500 Checks | 1000 Checks |
| $10 | $40 | $120 | $200 |
9. Enago
In addition to Turnitin, Enago Plagiarism Checker is a member of the Turnitin family of products. A partnership between Enago and Turnitin allows to acc of databases of more than 91+ billion web pages.
This check includes 82+ million scholarly periodicals from 1,700+ publishers and authors, for easy comparative data. Its AI grammar checker is powered by Trinka while the plagiarism checker is powered by Turnitin.
Key Points:
It gives you AI grammar-checking software for better editing and proofreading.
Provides accurate plagiarism percentage.
Highlights plagiarised content with a list of sources.
Ideal for educational entities.
Provia des powerful editing mode.
Pricing:
The Pricing depends on the content it charges you $1 per thousand words. The basic package includes a Plagiarism Check and AI Grammar Chfort of $12.00 with an additional $0.6 transaction fee.
If you want Scholarly Articles Check and Power Editing then you have to give additional charges of $19 and $6 respectively.
10. Plagiarism Checker X
Your research papers, assignments, blogs, and websites will be plagiarism-free with Plagiarism Checker X. A few seconds are all it takes to check your text similarity with speed and accuracy.
Currently, it is used by over 1 million users in 100+ countries.
It analyzes the quality of the content posted online by bloggers and writers to avoid search engine penalties. It is also an excellent tool for educational authorities.
Key Points:
Can examine in various file formats such as Spreadsheets, RTF, PDF, Plain Texts, and Word.
It is compatible to use with Windows versions 11, 10, 8, 7, and Vista.
Can check your document in 50+ languages.
You can check it online very quickly.
One can check multiple assignments in bulk.
You can have a side by side comparisons.
Excluding option for quotes & Bibliography.
Get comprehensive reports.
Get detailed HTML Reports
Pricing:
| | | |
| --- | --- | --- |
| Basic Plan | Professional Plan | Business Plan |
| $12 | $30.18 | $136.47 |
Other Affordable And Trending Tools For Plagiarism Detection
PapersOwl
ViUnplugplag
Chegg
Citation Machine
Small SEO Tools
EasyBib
Plagiarism Detector
PrepostSEO
SearchEngine Reports
Duplichecker
Key Features of Turnitin
Turnitin appeared as a good tool for proofreading and editing. The US-based company is currently providing its services worldwide with over 30 million users with more than 15K educational institutions.
Here are some key features that are currently provided by Turnitin.
Detection of plagiarism with accuracy and high quality.
Detects spelling and grammatical mistakes.
Calculates the similarity of content based on its percentage.
For school authorities, this feature automates the grading process.
When it comes to research and publishing, Turnitin is a great resource.
Students' papers can be read, evaluated, and critiqued by their instructors by completing PeerMark assignments.
One could aid the similarity report easily.
Why Turnitin is the Best choice?
"Empower students to do their best, original work."
That's what Turnitin says as it is known as the best tool to check plagiarism over the internet. There are no second thoughts about saying that because this software is on another level.
But what makes it so demanding in the market? Do you know that?
Unlike other software, Turnitin is designed in such a way that it can hold billions to trillions of databases to analyze the document.
Over the past two decades, it has gained data from more than 200 million students' research papers, academic work, and assignments.
Turnitin claims to have the crawled databases of over "99.3+ billion archived and current web pages." Besides all that, it has complementary data from over 1 billion books, periodicals, and magazines with Google Indexes.
Tools To Choose According To Your Profession
We have these recommendations for specific professions related to writing.
Tools for Bloggers and Content Writers
As a content writer and writer, I should choose a plagiarism checker that can help me detect any copied content within an article or even the similarities between different articles. Here I have listed them all for you below.
Grammarly
ProWritingAid
SearchEngine Reports
Scribbr
CopyScape
Tools for Educators and Teachers
For educators and those working in academia, the tool is designed to verify that the content you put online is authentic and free from any plagiarism.
Scribbr
Unicheck
WriteZen
iThenticate
Enago
Grammarly
Tools for Business
As for business people, a plagiarism detector will aid them in finding out if their work was copy-pasted from somewhere else.
Grammarly
Unicheck
Plagiarism Checker X
CopyScape Premium
Enago
Need Based Tools Recommendation
Now we will highlight our favorite tools that are need specific.
Tools for Grammar Check
Grammarly
ProWritingAid
Enago
Plagiarism Detector
Quetext
Tools for Plagiarism Check
Copyscape
Scribbr
Unicheck
Enago
Grammarly
iThenticate
Tools for Editing Proofreading
Grammarly
ProWritingAid
WhiteSmoke
Ginger
PaperRater
Tools for Citation
Citation Machine
BibMe
Quetext
Grammarly
CopyScape
If you are looking for an ideal Turnitin alternative tool for your organization, then just go for Grammarly. Grammarly has appeared as the best tool for all bloggers, publishers, educators, students, and many business authorities.
Our personal experience with Grammarly is very good and we are still using it for different purposes.
We also recommend using advanced text to art generators like Bing AI.
Why Choose Alternatives Of Turnitin Anyway?
Besides having premium features and tools, Turnitin is still not so famous over the internet—and the honest reason—is its drawbacks and flaws. It is not possible that something incredible does not have any shortcomings.
Here I have listed all of them so you can choose whether you should purchase Turnitin services or not.
Limited Availability
It is so depressing that you can't use this premium service if you do not belong to any educational institutions. You are only eligible to take advantage if you are a student, educator, teaching-staff member, or any educational authority.
Only an administrator can take the subscription by contacting Turnitin through a scheduled call or mail to get approval. Further, he can share it with teachers and teachers can share it with students.
Limited Elements
I do appreciate its highly advanced plagiarism detection, peer marking, and grading ability but this is all you can get. Yeah, it does provide highlights of grammatical and article errors but it doesn't make it so better anyway.
Its competitors are adding more features, like using AI to improve the content, and other advanced features by GrammarlyGO.
Interested to know more? Check out the pricing of Grammarly and Grammarly's offers for students 
Lacks Some Distinction And Updates
Even plagiarism detection lacks some refinement as it marks quoting and titles as plagiarised content. It also increases the similarity or plagiarism percentage which eventually makes the grading system a little bit pointless.
Turnitin sometimes faces a lag that creates inaccuracy of content and sometimes shows the content unplagiarized even if it's not.
Confidential Cost
Well, the pricing details are never disclosed by Turnitin officials on the Internet. The sales team will call you during the purchase with a negotiable price.
It creates some unfairness because you don't know if they are charging you high or low than other customers.
Conclusion
There are a few tools that are considered to be the best alternatives to Turnitin. But they all have their pros and cons.
The general idea of a plagiarism checker is to look at the content of your paper and see if it has been copied from somewhere else.
The main difference between Turnitin and other plagiarism checkers is that Turnitin shows every single instance where you may have used someone else's work without giving them credit.
If you really want to concentrate on your studies, all you need to get is software that fits your needs, profession, and budget.
Latest Post: