Do you know how to download videos from Facebook? If not, this article will help you in learning the steps. This is one of the best articles in our Tech category.
Facebook is booming with videos: educational videos teaching you to garden or code, the very visibly faked videos of people catching their partners cheating on them, aliens caught on film.
If there is a craving for content, that content is likely on Facebook in video form. In case you want to share that video with your friend you need to copy that link and DM it to them and they can watch that video.
Downloading a video from Facebook lets you have your copy on your phone or computer. That way, you can easily share it without having to scroll through your newsfeed.
Tools To Download Facebook Videos On Android Devices
Here we have mentioned the best 5 tools to download Facebook videos on your Android devices.
1. Download Manager
It downloads all types of Facebook videos files quickly on android powered tablets and smartphones. It is capable enough to detect from the browser automatically so users need not copy or paste them.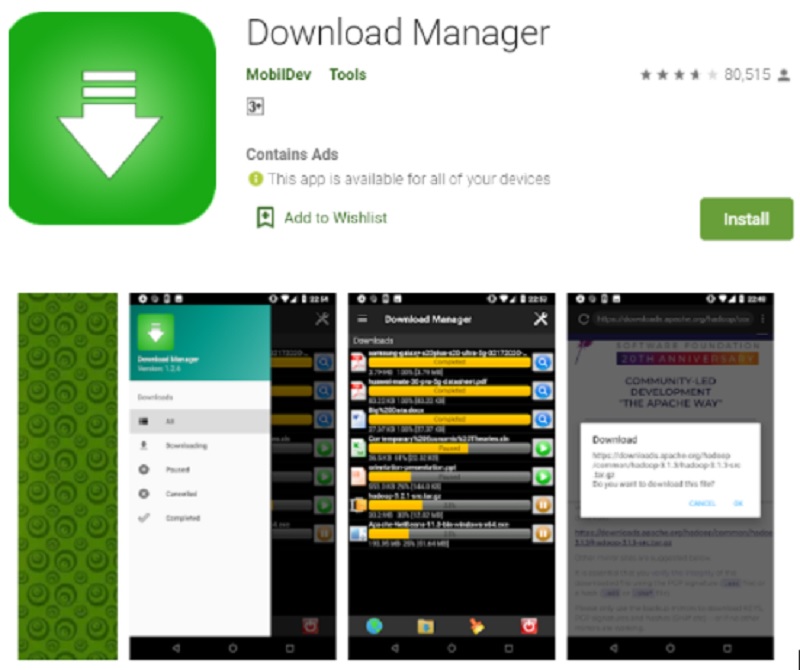 Support for large files (over 2 GB). Run in the background so that you can perform other activities on your phone.
It downloads large files in small chunks so that it won't affect downloading speed. Download Manager is a tool for increasing download speeds by up to 5 times, and for resuming, scheduling, and organizing downloads.
Download this app from Download Manager – Apps on Google Play
2. Get Them All
It allows easy downloading from hundreds of websites including your all-time favorite Facebook. You can easily download video, mp3, image, pdf, and so on from any website.
It downloads any type of file from any website with just a click. Fully integrated web browser. It can download multiple files simultaneously.
Fast, easy to use, and free. You can easily share your downloaded files. You can download files in the background also.
You can download GetThemAll from GetThemAll
3. KeepVid Android
KeepVid is a free Facebook video downloader app, which enables you to conveniently download videos from Facebook, YouTube, and many other video-sharing websites.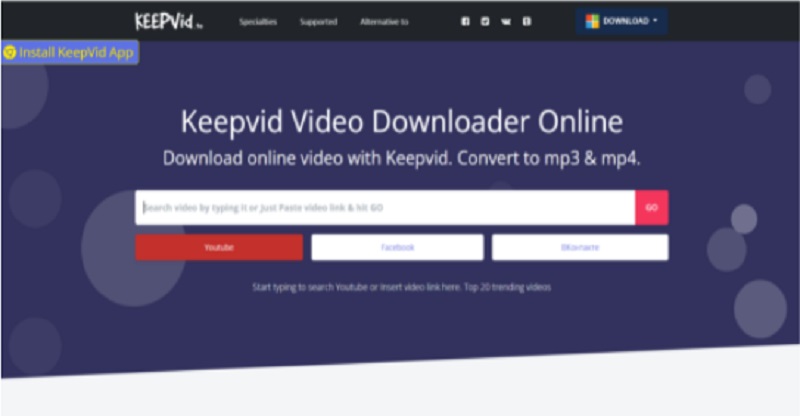 Keepvid allows easy downloads of videos, music, and photos on mobile phones. KeepVid Android lets you quickly locate and pick your desired media files, such as images, text, video, games, apps, and so forth.
KeepVid is especially helpful to those users who are constantly traveling and need to carry their videos with them wherever they go.
Download KeepVid from KeepVid
4. All Video Downloaders
All Video Downloader is an app for downloading videos from Youtube and similar streaming websites. It has a user-friendly interface, and it supports multiple file-formats including MPK, FLV, AVI, MP3, SWV, and MP4.
It automatically detects links to ensure quick downloads. You don't need to copy and paste URLs on smartphones. It is simple and very easy to use, it has a clean and simple interface. It allows you to navigate easily.
It categorizes the file as per file formats, size and name and saves it in your destination with the correct format.
It provides you with a preview during downloading so you can be sure of downloading the right video.
Download and try All Video Downloader – All Video Downloader for Android – APK Download
5. Media Clip Video Downloader
It is a simple app that downloads videos directly from any URL straight to your multimedia folder. This app will work with other sites than YouTube; any website with video will work.
It downloads video fast with media and does not affect network traffic. Copy and paste the URL into the app and start downloading the video. Works on other sites also other than Facebook and youtube.
Saves files to your default folder so it will be easy to find your files quickly.
Download MediaClip from MediaClip
Tools To Download Facebook Videos On Window Devices
Here we have mentioned the best 5 tools to download Facebook videos on your Windows.
1. Freemake Video Downloader
Freemake Video Downloader offers a wide range of output formats. You can save your Facebook video in MP4, MP3, AVI, FLV, 3GP, MKV, WebM.
It is free of cost and supports the most popular video sites without showing ads. It is an easy-to-use program with several features. It supports multiple file formats. You can download videos even from private accounts.
It sets the quality of videos with the preferred size. It consists of security features and can download videos from adult sites without revealing your identity.
It has a single-click download mode which aims to speed up the download process.
Download Freemaker
2. Bigasoft Video Downloader Pro
Bigasoft Video Downloader Pro can download videos from more than 100 popular video-sharing sites including youtube.
It enables you to download multiple videos at one time, you may enter numerous URLs in a list, and then have the videos downloaded one at a time until the list is complete.
It adjusts the video quality so you can freely set the video quality you prefer. You can record the videos while streaming with a built-in video recorder.
It resumes the downloading from the last stopping point. Has an intuitive and sensibly laid out interface.
Visit – Bigasoft Video Downloader
3. ClipGrab
It is a very powerful Facebook and YouTube downloader. It captured video streams from anywhere on the web which include YouTube, Dailymotion, Vimeo, and Facebook.
It is the simplest, most efficient video downloading tool. It also boasts over 120 functions that allow you to customize it according to your needs. It is free of cost. It provides a heuristic that can download videos from sites that are not officially supported.
It lets the user convert the downloaded files to other file formats such as MP4, MPEG4, OGG Theora, or WMV. It has a clean and easy-to-use user interface.
Get ClipGrab
4. FbDownloader
It is a reliable platform to download Facebook videos. This ready-to-go Facebook videos downloader doesn't require you to download any additional files on your system.
Simply copy and paste the video link into the field, click on the "Go" button and download the required video.
This tool lets you download videos in both HD and SD quality. It can convert facebook videos into MP3 files. The tool is compatible with Windows, Mac, and Ubuntu.
Download it from Fb Downloader
5. SaveFrom.net
Savefrom.net is an excellent service that helps to download online videos and audio quickly. It is free and does not require any paid plans for upgrading.
It helps to download online videos from any online platform including Facebook, Tv shows, or games from a lot of websites by just entering the URL.
It supports MP4 format and SD, HD, FullHD, 2K, 4K and it also depends on the uploaded file. YouTube videos can be saved in the same quality.
It works with Google Chrome, Mozilla Firefox, Safari, Opera, and all Chromium-based browsers.
You can use SaveFrom SaveFrom
Tools For Downloading Facebook Videos For Mac
Here are the top 5 tools for downloading Facebook videos on Mac.
1. Elmedia Player Pro
Elmedia Player is a Mac video player that offers advanced streaming options. It can handle any conceivable media format. Files can be streamed to Chromecast, AirPlay, Roku, and DLNA devices.
You can create your unique playlist in Elmedia keeping the videos and audios running all day even if you're busy. You can even control the playbacks, it provides the subtitles of the video. The download and usage are free.
Elmedia can be launched in many different ways with applications and through browsers.
You can download it from here Elmedia Player Pro
2. I-Tube Studio
It is a video downloader and converter tool and downloading videos through iTube ensures that your content remains free from viruses and malware.
You can access thousands of television and movies through its powerful streaming services.
This tool can download content from over 10000 websites. It supports screen record and records everything that you do on your screen. Can download the full playlist.
Can convert audio from a video file directly in MP3 formats. Safe mode of conversion. Also compatible with the services like Netflix and Hulu.
Download for free – I Tube Studio
3. GetfVid
It is a very famous tool for Facebook video downloads and conversion and works across multiple devices and can download mp4 as well as mp3 files from Facebook with the utmost ease. And is free of cost.
Apart from all this the tool is also very comprehensive and great to look at and is easy to use.
It can also converse Facebook videos to audios and can also download FB live videos. You can download videos from private accounts. It takes care of the copyrights of the videos you want to download.
You don't have to register yourself on a website or no need to download any software. It takes care of your privacy and identity.
You can use it from – GetfVid
4. Videoduke
It is an application that helps us to download Facebook videos on Mac. VideoDuke is fully compatible with the latest macOS Big Sur as well as with other earlier OSs.
It supports downloading the largest collection of photos, videos, and even text out there.
Video duke makes it easy to download videos and files from other Social Media platforms like Instagram or Twitter as well.
It is versatile, efficient and makes FB video download easy.
video duke has two modes Simple and Advance mode, in case you want a quick download you can prefer simple mode. And if you want to change the video name format or quality of video you can use the advanced mode.
You can download videos from – Videoduke
5. Gihosoft TubeGet
It is a tool that enables you to get any type of video from Facebook, save it in different formats, and even choose other elements to download from a specific Facebook page. It gives you a good quality of video in less time on Mac. It handles multiple downloads.
It has so many features, with very good download speed and bulk downloading.
Step 1: Copy the video URL in the address line and click the "+ Paste URL" button to parse the link;
Step 2: Select video resolution – such as 1080P, 4K or 8K, output format, subtitle language, and saving directory;
Step 3: Click the "Download" button to start downloading the video/playlist as video or audio.
Download videos from YouTube and 100+ online video sites like Vimeo, Twitter, Facebook, Instagram & Tumblr, etc and can keep them in resolution up to 1080P, 4K & 8K. Convert downloaded videos into audio MP3.
Download it from – Gihosoft TubeGet
Simple Steps To Download Facebook Videos Without Using Any Tool
Here are some steps you can use for downloading a Facebook video:
Go to that video which you want to download.
2. Copy the link of the video by clicking on the three dots on the top of the video on the right side of the screen.
3. Open a new tab and paste that URL link of that video in the new tab.
4. Replace www in the URL with m-basic.
This will open a very old version of Facebook with the same video on the screen.
5. Then open that video in a new tab like a single video on a screen.
6. Right-click on the video and select Save video.
7. Finally, choose the destination and name of your video and save it.
Now, the video will save to your chosen destination.
Frequently Asked Questions About Facebook Video Downloading
How can I download Facebook videos easily?
You can download Facebook by using several applications like- Download Manager, MyMedia, iTube Studio, Freemake Video Downloader.
Else you can just follow these steps:
1. Go to the Facebook application and search for the video you want to download.
2. Open the video and click on the Share button. 
3. Now, open the FastVid application on your smartphone and paste the link the video link.
4. Click on Download to simply save it to your gallery.
Which tools can be used to download Facebook videos on Windows?
You can download FB videos on the window by using these tools –
Freemake Video Downloader, Bigasoft Video Downloader, ClipGrap video Downloader, FBDownloader, and many more.
Which tools can be used to download Facebook videos on my MAC?
You can use ElMedia Player Pro, I-Tube Studio, GetfVid, VideoDuke, Gihosoft TubeGet, and many more tools for downloading FB videos on your Mac.
How can I download Facebook videos on my phone?
Here we can suggest to you some of the applications that provide an easy download facility for Facebook video on your phone;
1. Download manager
2. Get them All
3. Free Video Downloader
4. HDV
5. KeepVid Android
And many more.
Conclusion: Tools To Download Facebook Videos
You are now surely getting to know that How can you download a FaceBook video? You have probably noticed the tools which have been mentioned above by which you can easily download the Facebook videos. There are so many more but you have to decide which tool is effective and useful for you. They are free as well as paid as your requirement.
And here we have also mentioned how you can download a Facebook video without using any tool or software. Now you won't miss your favorite videos. So hurry up, go and start downloading your favorite videos from Facebook and any other video platform and share with your friends.
You may like to read:
How To Download YouTube Videos
Other related categories:
Latest posts: