This article covers the net worth of Mrbeast along with his monthly and yearly incomes, collection of cars, a tour of his house, and everything.
Fulfilling the roles of an entrepreneur, a YouTube celebrity, and a philanthropist, MrBeast (aka Jimmy Donaldson) is truly a force of nature!
We combed through tons of major media websites, MrBeast's social media accounts, and various newsletters to arrive at a conclusion about his net worth. Can't wait to find out the big number, huh?
If yes, then skim through the rest of this article to learn everything under the sun about the YouTube star's luxurious lifestyle and his rise to fame!
| | |
| --- | --- |
| MrBeast Networth 2023 | $103 million |
| Networth Trend For The Last 3 years | Growing |
| Nationality | American |
| Projects Accomplished | Finger on the App, MrBeast Burger, Feastables |
| Age | 24 years |
*Net Worth is estimated, not an official document, and not intended for any regulatory or taxation purpose.
---
Background Of MrBeast
Who is MrBeast
Jimmy Donaldson, popularly known as MrBeast, is a famous American YouTube celebrity. Considered to be the trailblazer of YouTube stunt videos, Jimmy is one of the highest-paid stars on YoutTube.
According to Forbes, he made a massive $24 million in 2020 through his YouTube channel, sponsorships, and merchandise sales.
Education and Profession
MrBeast completed his graduation from Greenville Christian Academy, Greenville, North Carolina, in 2016. Later on, he attended East Carolina University briefly and dropped out. So, MrBeast net worth is not because of his education, it is purely because of his YouTube career.
He began his YouTube career in 2012 with his "MrBeast6000" YouTube handle and came to the limelight in 2017 with his video "Counting to 100,000".
He gradually expanded his arena with challenges, comedy, vlogs, and donation videos.
Family
Born on May 7, 1998, in Kansas, Donaldson was raised in Greenville, North Carolina along with his brother Charles "C. J." His brother is also a YouTuber with over 4 million subscribers and goes by the name MrBro.
Social Life of MrBeast
MrBeast, at the time of writing this, is currently single. He broke up with his long-time girlfriend and YouTuber Maddy Spidell. The couple dated each from 2019 to early 2022.
MrBeast House
For MrBeast, buying and selling houses is just fun. In 2018, he purchased his own house for $320,000 after selling it which was a 3,000 square ft. two-story house. After 2 years, in 2020, he bought another house for $263,000. By the time, he bought three more for $1.45 million.
Watch this YouTube video to take a tour of his house.
---
Sources Of Income Of MrBeast
Professional Career That Built The Net Worth Of MrBeast
MrBeast is a professional YouTuber with over 140 million subscribers on his channel as of April 4, 2023. He also runs several other YouTube channels – MrBeast Gaming (31.7 million), Beast Reacts (22.3 million), a philanthropy channel, and MrBeast 2 (20.9 million).
He boasts over 215 million YouTube subscribers across all his YouTube channels.
Since his rise to fame, MrBeast has also founded Feastables and MrBeast Burger. He's a proud co-creator of fundraisers – Team Trees and Team Seas.
Projects Accomplished by MrBeast
Donaldson collaborated with MSCHF (Brooklyn-based art collective) to release a mobile game named "Finger on the App" in 2020. As per the rules of the game, the last player to remove his/her finger from the phone screen wins $25,000.
In December 2020, MrBeast with Virtual Dining Concepts, LLC, launched a virtual burger restaurant under the name MrBeast Burger. The burger joint is currently set up in over 1,000 locations across Europe and North America.
In 2022, Donaldson decided to venture into the culinary business again with a brand-new food company named Feastables. They launched a collection of chocolate bars named "MrBeast Bars" with 3 flavors – original, quinoa crunch, and almond.
Endorsements by MrBeast
The primary sponsors behind MrBeast's YouTube content are – Electronic Arts and Microsoft. Donaldson charges a handsome amount of $2 million per month from his primary sponsors.
Other sources of income
YouTube and the businesses listed above aren't the only ones that add to the massive net worth of MrBeast. Read on to find out in what other ways he collects his handsome annual income!
Collaborations and Startups

Donaldson is also an investor in a tech startup called Backbone which is the producer of the Backbone One.
He partnered with the Creative Juice Financial network in March 2021 to launch Juice Funds that fund content creators.
Donaldson decided to become a long-time investment partner of a FinTech company called "Current" in April 2021.
Philanthropy
Donaldson along with Mark Rober (former NASA engineer and YouTuber) launched a massive fundraising event on YouTube under the name Team Trees on October 25, 2019. In July 2022, the fundraising event raised over $23.89 million which equates to 23.89 million tree plantations.
Rober and Donaldson collaborated again on October 29, 2021. This time with the goal of raising $30 million for The Ocean Cleanup and Ocean Conservancy by January 1, 2022.
---
Success Story Of MrBeast 
Struggles and Rejections Faced by MrBeast
With all the good that MrBeast does through his philanthropic videos, you'd expect him to have a rosy life. However, the YouTube star has had to face his share of struggles and rejections.
In fact, Donaldson has also stared death in the face and lived to tell its tale. In one of his interviews, he recalled his near-death experience where one of his friends driving the car momentarily died (due to a heart condition) and he had to take over the wheel to save the rest of the passengers.
You'd be surprised to learn that the altruistic video king on YouTube philanthropies way more than he earns. He also suffers from Crohn's disease that if left unchecked, leaves him in extreme pain.
He also received major backlash for his most popular YouTube video based on the Squid Game.
Major Turning Points in the life of MrBeast
Donaldson started posting videos on YouTube when he was just 12 years old.
He went through major stages of YouTube trends on his channel including playing Call of Duty and Minecraft.
His series of videos on the topic "worst intros on YouTube" earned him thousands of subscribers between 2015-16.
A simple idea of counting numbers from zero to 100,000 while staring at the camera for nearly 40+ hours launched him to stardom.
The creator then went on to build a name for himself in the YouTube industry through attention-grabbing charity stunts and philanthropic ideas.
Achievements of MrBeast's Career
One of Donaldson's biggest projects to date is his entrepreneurial venture – MrBeast Burger. Launched with only 300 locations in the US, the project is now set up in over 1000 locations across Europe and the US.
In October 2019, MrBeast launched his philanthropic projects Team Trees and Team Seas to celebrate scoring 20 million subscribers on his main channel.
His ambitious video based on the concept of Squid Game in November 2021 garnered 456 participants competing for the prize of $456,000. It gained over 220 million views.
Some of his biggest philanthropic ventures are – giving away a private island, donating about 100 cars, and donating 1 million dollars in one of his videos.
Awards and Recognition
9th Streamy Awards – Breakout Creator (2019) and Ensemble Cast and Creator of the Year (2019)
10th Streamy Awards – Creator of the Year, Social Good: Creator, Live Special, Social Good: Nonprofit (2020)
12th Annual Shorty Awards – YouTuber of the Year (2020)
11th Streamy Awards – Creator of the Year (2021)
Kids' Choice Awards – Favorite Male Creator (2022)
---
Life-Changing Steps Taken By MrBeast 
After studying the YouTube algorithm for years, Jimmy's idea of counting numbers from zero to 100,000 helped him make his mark on YouTube.
MrBeast changed the face of content creation with his philanthropic projects and stunt videos.
His two projects with Mark Rober – Team Trees and Team Seas raised over $20 million and $30 million respectively.
His squid game-inspired contest on YouTube was a smashing hit with over 220 million views.
Apart from this, his entrepreneurial venture with Feastables and MrBeast Burger also added millions to his wealth.
---
How Much Does MrBeast Make In A Day?
After skimming through major websites like Forbes, Jimmy's social media accounts, and newsletters, we've concluded that his net worth is approximately $103 million. According to Forbes, he earns over $54 million in one year.
As per this number, his monthly income is $5 million and his daily income is estimated to be $170,000.
---
Brands And Companies Owned By MrBeast
Feastables: Donaldson launched a food company called Feastables in January 2022. The brand produces its chocolate bars under the name "MrBeast Bars".
MrBeast Burger: Another popular culinary venture by MrBeast is MrBeast Burger. The fast food joint is currently available in over 1000 locations across Europe and North America.
Finger on the App: This was a popular one-time multiplayer game that was launched by Jimmy in collaboration with MSCHF in June 2020.
---
Top News Of MrBeast 
Want to find out the latest happenings in the life of this YouTube megastar? Let's take a quick look!
MrBeast recently achieved the massive feat of 100 million subscribers on his YouTube channel. To celebrate this, he gave away an entire island to one of his fans.
MrBeast recently took to Twitter to highlight his interest in collaborating with an Indian creator.
As MrBeast is close to surpassing Pewdiepie's YouTube subscribers, the latter congratulated MrBeast on his achievement and wished him good luck in his future endeavors.
---
Last 3 Years Networth Of MrBeast: Is It Growing? What Do We Learn From His Life? 
MrBeast's net worth is steadily improving year after year, all thanks to his philanthropic events, stunts, and business ventures.
According to the data collected by us after doing some major research, here's the graph for Donaldson's net worth over the past 3 years: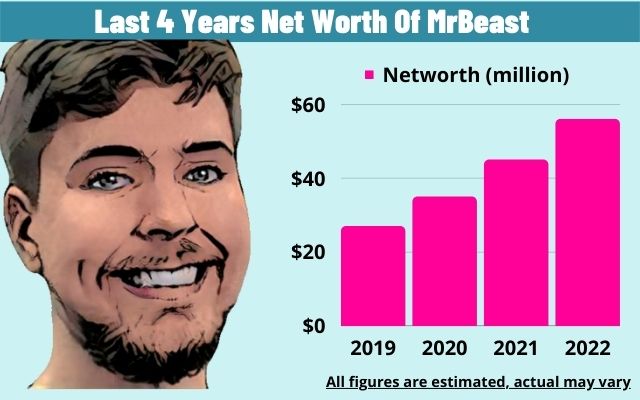 | Year | Networth | Change in Networth |
| --- | --- | --- |
| 2023 | $103 million | +87% |
| 2022 | $56 million | +24.44% |
| 2021 | $45 million | +28.6% |
| 2020 | $35 million | +29.6% |
| 2019 | $27 million | N/A |
MrBeast's net worth for 2022 has touched the $56 million mark that's almost 1.25x of 2021's estimates. In 2023, we have witnessed remarkable growth in MrBeast's net worth touching $103 million.
Future Plans For the Next 5 Years: Impact On Its Net Worth
Regarded as one of the biggest stars in the YouTube community, Donaldson says that his future goal is to become the first ever person on YouTube to have a billion subscribers.
Even though it seems like an impossible feat to achieve, the YouTube celebrity does have some amazing skills in his kitty to fulfill this dream!
---
FAQs: People Also Ask
What is MrBeast's net worth? 
MrBeast's net worth is approximated to be $103 million. 
How much money has MrBeast given away through his videos? 
Fondly regarded as YouTube's biggest philanthropist, Jimmy gave away a prize of $250,000 in 2020 for a rock, paper, scissors competition. He followed it up by hosting a virtual Squid Game with a grand prize of $456,000. 
How many cars does MrBeast own? 
His luxury car collection features – BMW 3 Series, Lamborghini Gallardo, Lamborghini Huracan Spyder, Nissan Armada, and Tesla Model 3. 
---
Final Words: Is MrBeast's Net Worth Growing, Degrowing, Or Stagnant?
Our multi-faceted research has proven that MrBeast has a massive net worth of approximately $103 million. With year after year's increase in the number of YouTube subscribers across all his channels, it's fair to say that Jimmy's net worth is currently growing.
Categories
Related Post