What is the full form of OBC? We have two simple answers for you. The OBC full forms are:
Other Backward Class
Oriental Bank of Commerce
OBC stands for many full forms but the most Intrigued full forms we all have come across are mentioned above.
Other Backward Class
OBC: known as Other Backward Class is a term that is been used by the Government of India to address and classify the castes which are educationally or socially disadvantaged.
With General Caste, Scheduled Castes and Scheduled Tribes (SCs and STs), Other Backward Class (OBC) are one of the official classifications of the population of India.
Communities that face oppression, social, economic, and educational isolation but do not fall under the caste classifications of Scheduled Castes and Scheduled Tribes are the people who fall under the community of Other Backward Class.
Government Obligations Towards OBCs
It is obligatory for the Government to promote the welfare of the OBCs under Article 340 of the Indian Constitution.
To ensure the social and educational development of OBCs
Reservations of OBCs at 27% in public sector employment and higher education.
21.57% of OBCs in Government Services in 2016, with an increasing trend since September 1993.
To attend the matters of Scheduled Tribes, Scheduled Caste and Other Backward Class a separate ministry of welfare is been established as Ministry of Social Justice and Empowerment.
The same MInistry of Backward Class Division looks after the planning, policy, and implementation of programs relating to social and economic empowerment of OBCs.The Ministry also looks after the matters of two Institutions set up for the welfare of OBCs, the National Backward Classes Finance and Development Corporation and the National Commission for Backward Class.
Demographics
Kalelkar Commission: The First Backwards Classes Commission was established under the Chairmanship of Kaka Kalelkar. The list included 2,399 backward castes or communities of the entire nation. Amongst them, 837 has been classified as the "most backward". 
43.1 % population from India has considered into the caste of OBCs it included the following :

Treating all women as a class as "Backward".
In all technical and professional institutions, reservations of 70% seats for qualified students for backward classes.
Reservation of vacancies in all government services and local bodies across the nation for Other Backward Classes.
However, the same report was not accepted by the government that lead to fears amongst the backwards classes excluded from the caste and communities.

Mandal Commission: In 1979, the decision to set up second backward classes. The total population of OBCs including Hindus and Non-Hindus as per the report submitted is 52%. The number of Backward Classes was 3,743 in the list. The number of Backward Classes has now increased to 5.013 in the Central List of OBCs.
There is a substantial debate over the exact figure of population of OBCs in India.
Reservations For OBC
27 % of reservations was been suggested due to the legal constraint that the total quantum of reservation should not exceed 50 %. In consideration of the states which have already introduced reservations for the Other Backward Class will not be affected. With the same thinking in consideration, the government has proposed the scheme for Backward classes.
Candidates who belong to the OBC quota who are recruited on the basis of merit in an open competition, should not be adjusted against their reservation quota of 27 %
The reservation should also be applicable to the promotion quota at all levels.
Reservation quota that remains unfilled should be carried forward for a period of three years and de-reserved thereafter.
Relaxation in the upper age limit for direct recruitment should be extended to the candidates of OBC in the same manner as done for other castes such as Scheduled caste and Scheduled Tribe.
All Universities and affiliated colleges should also be covered in the same reservation scheme.
Literacy Promotion Measures
In areas of the high population of OBC, an intensive time-bound programme for adult education should be launched.
In the areas of Backward Class students, residential schools should be set up in order to provide a climate especially conducive to serious studies. Facilities in these schools including board and lodging should be provided free of cost to attract students from poor and Backward Class homes.
Seats should be reserved for OBC students in all scientific, technical and professional institutions that are run by the Central as well as State Governments. The quantum of the reservation is 27%
The lower OBCs form around 35 % of the population in Uttar Pradesh. The OBC sub-categorization has been implemented at State Levels by 11 States.
Oriental Bank Of Commerce
OBC: known as Oriental Bank of Commerce w.e.f 1st April 2020 got merged with Punjab National Bank. It was first founded in 194 in Lahore. It has 2390 branches and 2625 ATMs across India from 1943-2020.
Merger
Oriental Bank of Commerce along with the United Bank of India was merged with Punjab National Bank on 1st April 2020 making it the second-largest public sector bank in India.
The same was announced on 30 August 2019 by Finance Minister Nirmala Sitaraman that the Oriental Bank of Commerce along with the United Bank of India would be merged with Punjab National Bank with assets of Rs.17.95 lakh crore (US$250 billion) and 11,347 branches.
But the merger would be entitled to be working from 1st April 2020 was stat by MD and CEO of United Bank.
Ther Merger was been approved by the Union Cabinet.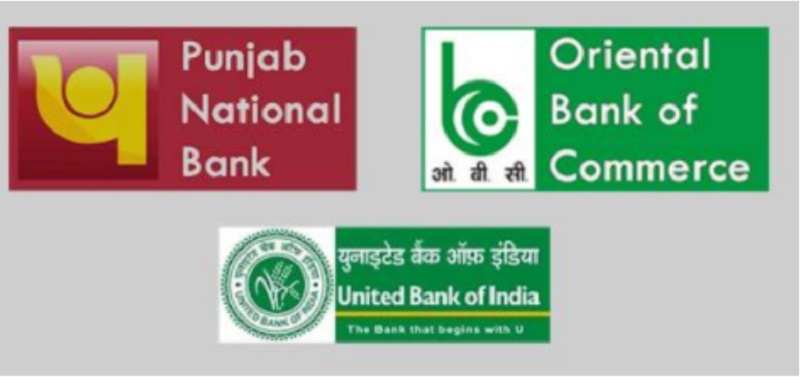 Consideration
The Shareholders of Oriental Bank of India and United Bank will receive 1,1150 shares and 121 shares of Punjab National Bank of India respectively, for every 1000 shares held by them.
Features
OBC offers various banking products and services such as:
Deposit accounts
Loans
DEbit cards
Credit cards(tie-up with SBI)
Insurance Products
ATMs
Internet BAnking
Mobile Banking
SElf-Banking halls
Call Centre
Schemes Launched
Some of the schemes launched for the OBC are as follows:
Grameen Project: Started at the grass level to tackle and aim to alleviate poverty. It has already been implemented at Dehradun District and Rajasthan. The scheme features of distributing small loans ranging from Rs. 75 onwards.
The Comprehensive Village Development Project: Launched at three villages in Punjab and two villages in Haryana on the auspicious day of Baisakhi 13 April 1997. With its success, it now covers 15 villages.
The programme focuses on an integrated package providing rural finance to the villagers with Village Development as its prime focus.
FAQ
Who is considered OBC?
OBC stands for Other Backward Class is a word used by the government for the castes who are educationally and socially disadvantaged.
Who are the reserved categories?
Reservation is categorized into three categories. First is Scheduled Castes, second is Scheduled Tribes and third is Other Backward Classes they also termed as SC, ST, and OBC.
Summary: Correct Full Form Of OBC
OBC: Other Backward Class is always treated as inferior are disadvantaged to the various forms of culture enjoyed by other castes.

OBC: Oriental Bank of Commerce, thus witnessed ups and downs since its establishment and was ranked at 19th among 20 Nationalised Bank of India.
We recommended you to read:
Other related categories:
Latest Post